Tee Madness 2010 Cont.
Skeg Clothing » Skate, Music, Clothing and more!
OMUNKY - Creative Eco-Friendly Apparel
HaHa Press
John Prints Public Bathroom Graffiti On T-Shirts
Arkaik Clothing
Cavata Clothing Co.
HAVOK CLOTHING - Skate T-shirts, rocker clothing, metal band shi
SHRED - Metal shirts, rocker clothing, crazy shirts, badass shir
KKBB Apparel
Wear Subeco
Miles to go clothing - literary based designs focused on the art
Dream Gold | Kings of the Wild | Online Store Powered by Storenv
Zombie Liquorice - Home
Daniel Newman - RedBubble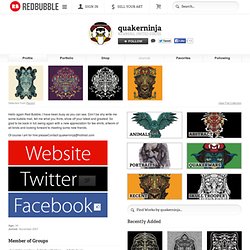 Need votes at Metal Ink. Gypsy Queen at Metal Ink?
Shrimp Sauce Clothing | Home