Certification
Knowledge growth and the allocation of time
Launch your career in project management 25 October 2011 As one of the more recession-proof professions, project management continues to grow. In the second quarter of 2011, 54 percent of companies said they were hiring project managers, compared to 36 percent in the second quarter of 2010, according to the 2010-2011 PMI Economic Pulse Survey , a global study of 2,000 PMI members and credential holders.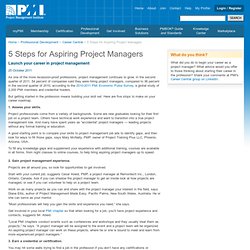 5 Steps for Aspiring Project Managers |PMI Career Central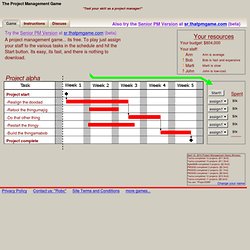 A project management game... its free. To play just assign your staff to the various tasks in the schedule and hit the Start button. Its easy, its fast, and there is nothing to download.
The Project Management Game
Over the years there has been a lot of discussion on the value of credentials such as PMP; frequently triggered by the failure of a 'qualified' person to perform in the workplace. There are essentially two ways to assess a person from a credentialing point of view. Testing what they know or assessing what they do. Competency based assessments (what they do) tend to assume knowledge based on performance.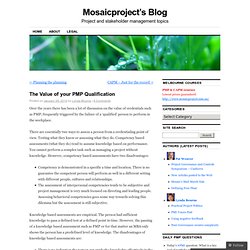 The Value of your PMP Qualification | Mosaicproject's Blog
PMP Study Cards flashcards
PMP Acronyms flashcards
Rita's Process Chart flashcards
Completed "Learn" mode k8TykaT , santoshpm , shahidis , mzdooly , jeffreyunger , mayne4998 , Samirafi , markgro , Amadden1 , vsidharth , andb , klbarlow , jscobass , Brian_A , Fry0515 , bogarb , wwc233 , monti435 , votthao , Elleb1 , thiruveni , gwb1217 , Pardon , knowlgo , ckamida , shepov , virgilio_avila , jeffdgarrison , zappaneese , DMWOOD719 , Tabata , akovalenko , Horace92 , Neptun , lachispa , tedunni (See all 36)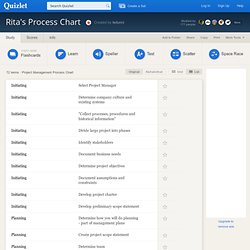 Project Management Testbank (Version 4) Notice: Project Management Institute has written to us regarding PMI's intellectual property, and has requested this website to remove unauthorized PMI material from this website, including PMI trademark references. Hence, in order to abide with PMI's registered trademarks, the website is undergoing a facelift, and we have unveiled our new site name, called "Project Management Testbank".
PMP Bank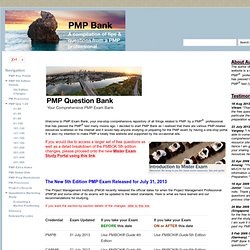 PMP Study Buddy
Formulas - Earned Value ACWP/AC = The actual cost of work performed to date or for a given time period. BCWS/PV = Known in advance; Budgeted cost of work scheduled during a given time period. BCWP/EV = How much work got done. EAC = Estimate at completion is the expected cost of work when completed. ETC = Estimate to complete is the additional budget or costs needed to complete the activity or project if everything continues at current levels of performance. BAC = Budget at completion is the remaining budget less the work that's been done to date.
rita'schart - PMP Bank
Velociteach | PMP Training & Prep Resources
How to become a PMP in 6 Steps
Project Management Professional (PMP) Certification The objective of this page is to help jump-start your journey toward PMP certification. There's a plethora of information available about the PMP exam on the internet. However, the challenge that faces most PMP aspirants is to figure out where to start.
How to Prepare and Fill a PMP Application Form