Certification
Knowledge growth and the allocation of time. 5 Steps for Aspiring Project Managers |PMI Career Central. Launch your career in project management 25 October 2011 As one of the more recession-proof professions, project management continues to grow.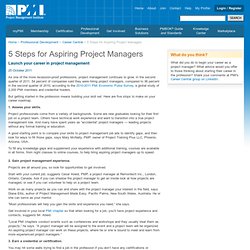 In the second quarter of 2011, 54 percent of companies said they were hiring project managers, compared to 36 percent in the second quarter of 2010, according to the 2010-2011 PMI Economic Pulse Survey, a global study of 2,000 PMI members and credential holders. The Project Management Game. A project management game... its free.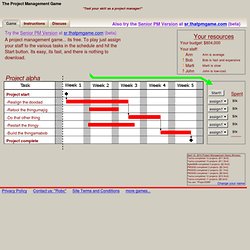 To play just assign your staff to the various tasks in the schedule and hit the Start button. Its easy, its fast, and there is nothing to download. The Value of your PMP Qualification | Mosaicproject's Blog. Over the years there has been a lot of discussion on the value of credentials such as PMP; frequently triggered by the failure of a 'qualified' person to perform in the workplace.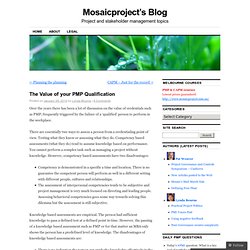 There are essentially two ways to assess a person from a credentialing point of view. Testing what they know or assessing what they do. Competency based assessments (what they do) tend to assume knowledge based on performance. PMP Study Cards flashcards. PMP Acronyms flashcards. Rita's Process Chart flashcards.
PMP Bank. Welcome to PMP Exam Bank, your one-stop comprehensive repository of all things related to PMP, by a PMP® professional that has passed the PMP® test many moons ago.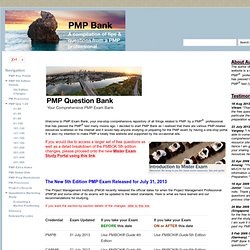 I decided to start PMP Bank as I realised that there are various PMP-related resources scattered on the internet and it would help anyone studying or preparing for the PMP exam by having a one-stop portal. It is also my intention to make PMP a totally free website and supported by the occasional ads. Rita'schart - PMP Bank. Velociteach | PMP Training & Prep Resources. How to Prepare and Fill a PMP Application Form. Sample Questions.
---