QT Graphics Package Mostly for Python
Home This is PyQt4 tutorial. The tutorial is suited for beginners and intermediate programmers.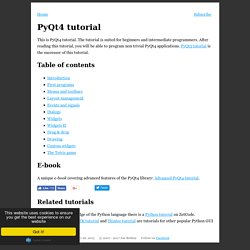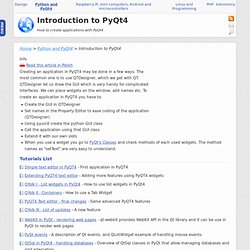 Introduction to PyQt4
Home > Python and PyQt4 > Introduction to PyQt4 Creating an application in PyQT4 may be done in a few ways. The most common one is to use QTDesigner, which we get with QT.
PyQT Model View Tutorial Part 01_0
PyQT Model View Tutorial Part 01_1
PyQT Model View Tutorial Part 02_0
PyQT Model View Tutorial Part 02_1
PyQT Model View Tutorial Part 02_2
PyQT Model View Tutorial Part 03_0
PyQT Model View Tutorial Part 03_1
PyQT Model View Tutorial Part 03_2
The Model-View Framework