QT Graphics Package Mostly for Python
Home This is PyQt4 tutorial. The tutorial is suited for beginners and intermediate programmers.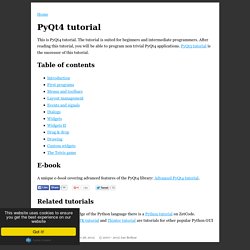 Riverbank : PyQt : Overview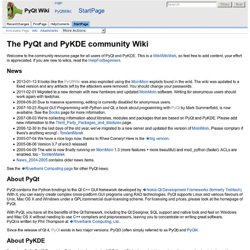 Welcome to the community resource page for all users of PyQt and PyKDE. This is a WikiWikiWeb , so feel free to add content, your effort is appreciated. If you are new to wikis, read the HelpForBeginners . News
StartPage - PyQt Wiki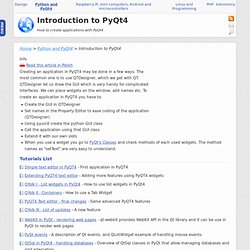 Introduction to PyQt4
Creating an application in PyQT4 may be done in a few ways. The most common one is to use QTDesigner, which we get with QT. QTDesigner let us draw the GUI which is very handy for complicated interfaces.
PyQT Model View Tutorial Part 01_0
PyQT Model View Tutorial Part 01_1
PyQT Model View Tutorial Part 02_0
PyQT Model View Tutorial Part 02_1
PyQT Model View Tutorial Part 02_2
PyQT Model View Tutorial Part 03_0
PyQT Model View Tutorial Part 03_1
PyQT Model View Tutorial Part 03_2
The Model-View Framework