BioInformatique
Matlab Code by Mark Schmidt (optimization, graphical models, machine learning) Summary This package contains the most recent version of various Matlab codes I released during my PhD work.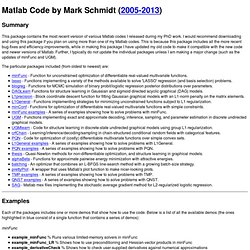 I would recommend downloading and using this package if you plan on using more than one of my Matlab codes. 11F: Homework 03. Here we will work with the Spambase dataset from HW02 , testing your implementations using Fold 1 as described in HW02.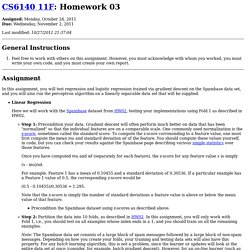 Precondition your data. Gradient descent will often perform much better on data that has been "normalized" so that the individual features are on a comparable scale. One commonly used normalization is the z-score , sometimes called the standard score. To compute the z-score corresonding to a feature value, one must first compute the mean and standard deviation of the feature. You should compute these values yourself, in code, but you can check your results against the Spambase page describing various simple statistics over those features. A question and answer site for bioinformatics. Faster Illumina analysis pipeline via streaming. Hello BioStar, After some time working with Illumina and pipelines, I've identified a bottleneck when getting early "draft" results from a run.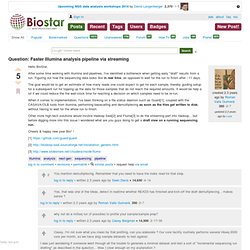 Figuring out how the sequencing data looks like in real time, as opposed to wait for the run to finish after ~11 days. The goal would be to get an estimate of how many reads one could expect to get for each sample, thereby guiding setup for a subsequent run for topping up the data for those samples that do not reach the required amounts. Ten Simple Rules for Getting Help from Online Scientific Communities. Citation: Dall'Olio GM, Marino J, Schubert M, Keys KL, Stefan MI, et al. (2011) Ten Simple Rules for Getting Help from Online Scientific Communities.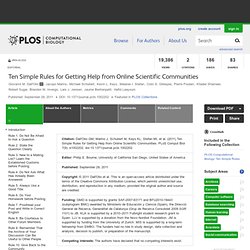 PLoS Comput Biol 7(9): e1002202. doi:10.1371/journal.pcbi.1002202 Editor: Philip E. Health focused genetic testing and analysis; DNA test - Navigenics. STRING: functional protein association networks. Gregor Gorjanc (gg) 03. GNA : Genetic Network Analyzer. Genetic Network Analyzer : Modelling and simulation of genetic regulatory networks Genetic Network Analyzer (GNA) is a computer tool for the modeling and simulation of genetic regulatory networks.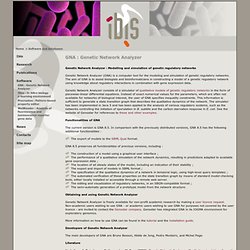 The aim of GNA is to assist biologists and bioinformaticians in constructing a model of a genetic regulatory network using knowledge about regulatory interactions in combination with gene expression data. Genetic Network Analyzer consists of a simulator of qualitative models of genetic regulatory networks in the form of piecewise-linear differential equations. Instead of exact numerical values for the parameters, which are often not available for networks of biological interest, the user of GNA specifies inequality constraints. This information is sufficient to generate a state transition graph that describes the qualitative dynamics of the network. European Bioinformatics Institute | Homepage.
---