Marketing
Get flash to fully experience Pearltrees
Editor's note: Tadhg Kelly is a game designer with 20 years experience.
Pour connaître les comportements d'achat des consommateurs à l'intérieur même du magasin, les caméras ou le Kinect peuvent être la solution. Apparemment, le mobile aussi ! En entrant dans un magasin ou en regardant simplement par la vitrine de celui-ci, les consommateurs sont loin de se douter qu'un logiciel est en train d'analyser leur comportement.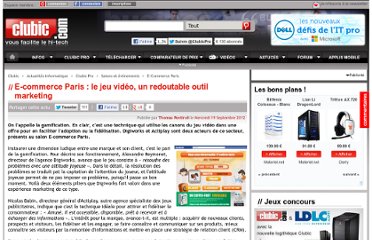 On l'appelle la gamification.
Facebook a lancé la semaine dernière sur la version anglaise de son site les « Promoted Posts ». Apportent-ils vraiment de la visibilité et du trafic ? Rien de tel qu'un test pour le savoir.
Are you looking for creative ideas to drive Pinterest traffic to your site? If you're wondering just how effective a great image can be in driving traffic to your website, read on… Since the launch of Pinterest , bloggers and website owners have been amazed to see just how much traffic this social photo-sharing platform can generate for a site or particular post. The power of Pinterest comes IF the image on the page or post is a real attention-grabber; in other words, "pinnable." So how do you create images that tell a story and intrigue the viewer , all in the split second they take to glance at it?