tutorials
Get flash to fully experience Pearltrees
Have you ever wanted to design a beautiful website but just didn't know how? To be honest, a few years ago, that happened to me too. While browsing the web, I saw so many nice looking websites and wished I had the skills to create such designs. Today I can and I'm going to teach you how to do so too! Essentially, it requires a few Photoshop skills and an eye for detail. Through this tutorial, I will point out these tiny details which make a website design look beautiful.
Aug 12 2010 Web layouts are crucial for every web design. Whether it is a simple design or an advanced one, Photoshop can often come handy in creating such layouts. We have collected some really creative and helpful recent tutorials that display the process behind creating web layouts in Photoshop. Photoshop Web Design Layouts How to Create a Trendy Colorful WordPress Layout in Photoshop In this tutorial author will create a trendy and colorful wordpress layout in Photoshop.
Nettuts+ Toggle Website Templates Advertise Here
According to wikipedia, "Ajax, sometimes written as AJAX (shorthand for asynchronous JavaScript and XML), is a group of interrelated web development techniques used on the client-side to create interactive web applications or rich Internet applications.
The letterpress effect is becoming hugely popular in web design, and with a couple of modern browsers now showing support for the text-shadow CSS3 property it's now simple and easy to create the effect with pure CSS. No Photoshop trickery here! Letterpress – Isn't that a type of industrial print method? That's right! But the effect has also made its way into web design. Check out the previous feature showcasing examples of how designers are using this cool 'de-bossed' look on designs across the web.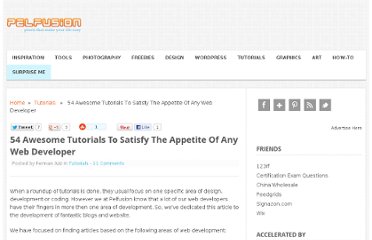 When a roundup of tutorials is done, they usual focus on one specific area of design, development or coding.
In the last few years, web design has improved significantly. There are so many tutorials out there to increase the skills capacity web designers and web developers. Some popular browsers such as Firefox, Safari already supported some CSS3 properties, and now the designer has many CSS3 properties. Today, I will share some tutorials, tips and tricks about CSS3.
Although CSS is generally considered a simple and straightforward language, sometimes it requires creativity, skill and a bit of experimentation.
<label for="field1">Basic Field</label> <input type="text" class="input-text" id="field1" /> <label for="field1" class="inlined">Inline Label Field</label> <input type="text" class="input-text" id="field1" /> Example Form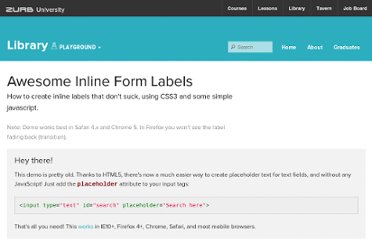 Jan 25 2010 By Paul Andrew As many of us know, the initial 15-20 seconds of a new user's visit to a web site will have a large impact on whether on not they are going to like or dislike the site, prompting them to decide whether they will stay or go.