Flash
Archive AS3 Gadgets | Free ActionScript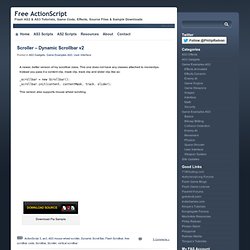 A newer, better version of my scrollbar class. This one does not have any classes attached to movieclips. Instead you pass it a content clip, mask clip, track clip and slider clip like so: _scrollbar = new Scrollbar(); _scrollbar.init(content, contentMask, track, slider); This version also supports mouse wheel scrolling. Download Fla Sample
Flash CMS - FlashMoto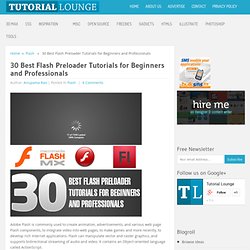 Disclaimer: We get inspiration in all of our stuff whether that will design Articles (related images) or Roundups (all designing stuff, source files, language codes etc...) and we also give the link back from where we get the images, graphics, source files and language codes (we aren't the magicians to recognize that he's a real owner or he grab or steal it) because we are not the owner of these content(s). If anybody would like to use any images, graphics, source files and language codes or content which we are also using, his duty is to find the real owner of that images, graphics, source files and language codes to use it according to the license (terms and conditions) of that content. If anybody have desire to modification, edition, deletion and print or any kind of use in that stuff he should find the real owner.
30 Best Flash Preloader Tutorials for Beginners and Professionals
In this tutorial you will learn how to make a scrolling list activated by mouse up and down movements, with different speeds based on the position of the cursor. I'll also cover preparing list data with PHP, loading XML data and a brief explanation of the algorithm I came up with. Enjoy! Step 1: Introduction The other day, when I was testing a smart phone, I saw one of these cool, neat list scroller tweening effects.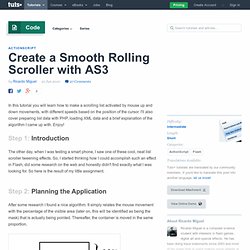 Create a Smooth Rolling Scroller with AS3
The Piecemaker - free Flash image rotator gallery - Home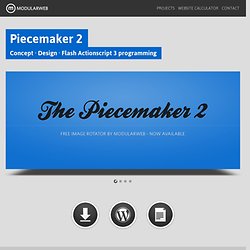 Category: Download product Date: January 2011 Documentation View Demo Free Download The Piecemaker is without a doubt the most famous of all Modularweb projects to date. The mighty 3D Flash image slider was created in cooperation with ActiveTuts+ , where you can also download it exclusively and entirely for free. Embedding SWF files into the Piecemaker Which Flash versions are supported? Your SWF file needs to be created with Flash CS4 or above, as the Piecemaker uses the native Flash 3D engine, which is only available in Flash CS4+.