BA
Business Analysis | Foundation | Business Analysis / Change | ISEB | Professionals | Qualifications, Training, Careers | BCS - The Chartered Institute for IT
What are the learning outcomes? Candidates should be able to demonstrate knowledge and understanding of business analysis principles and techniques. Key areas are: the role and competencies of a business analyststrategy analysisbusiness system and business process modellingstakeholder analysisinvestigation and modelling techniquesrequirements engineeringbusiness case developmentmanagement of business change For further information please read the syllabus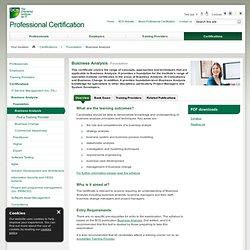 What is BPMN? The Business Process Modeling Notation (BPMN) is a graphical notation that depicts the steps in a business process. BPMN depicts the end to end flow of a business process. The notation has been specifically designed to coordinate the sequence of processes and the messages that flow between different process participants in a related set of activities. Why is BPMN important?
In June of 2005, the Business Process Management Initiative (BPMI.org) and the Object Management Group™ (OMG™) announced the merger of their Business Process Management (BPM) activities to provide thought leadership and industry standards for this vital and growing industry. The combined group has named itself the Business Modeling & Integration (BMI) Domain Task Force (DTF) . For more information about the BMI DTF's activities, please visit BMI Working Group Page . Standards Work in Progress The BMI's combined activities continue BPMI's and OMG's groundbreaking work and focus on all aspects of Business Process Management.
Business Process Management Initiative
A Business Analyst (BA) is someone who analyzes an organization (real or hypothetical) and designs its processes and systems, assessing the business model and its integration with technology. The International Institute of Business Analysis (IIBA) describes the role as "a liaison among stakeholders in order to understand the structure, policies, and operations of an organization, and to recommend solutions that enable the organization to achieve its goals." In simple words and as more often, role of a Business Analyst is defined as "a bridge between the Business (Problems) and the Technology (Solutions)".
Business analyst