BA
Business Analysis | Foundation | Business Analysis / Change | ISEB | Professionals | Qualifications, Training, Careers. What are the learning outcomes?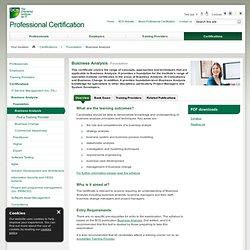 Candidates should be able to demonstrate knowledge and understanding of business analysis principles and techniques. Key areas are: the role and competencies of a business analyststrategy analysisbusiness system and business process modellingstakeholder analysisinvestigation and modelling techniquesrequirements engineeringbusiness case developmentmanagement of business change For further information please read the syllabus. BPMN Information Home. Business Process Management Initiative.
Business analyst. A Business Analyst (BA) is someone who analyzes an organization (real or hypothetical) and designs its processes and systems, assessing the business model and its integration with technology.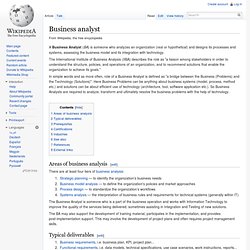 The International Institute of Business Analysis (IIBA) describes the role as "a liaison among stakeholders in order to understand the structure, policies, and operations of an organization, and to recommend solutions that enable the organization to achieve its goals. " In simple words and as more often, role of a Business Analyst is defined as "a bridge between the Business (Problems) and the Technology (Solutions)".
---