VPN
SecurityKISS - Free VPN Service. What Is Vpn. A Virtual Private Network (VPN) is a private network whose data packets are encapsulated and sent over the public internet.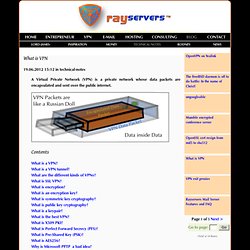 Contents What is a VPN? What is a VPN tunnel? Get started | tunlr.net. A little over two years ago we started Tunlr as a fun project.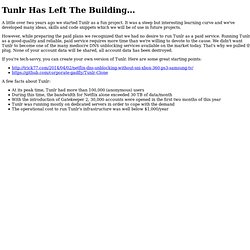 It was a steep but interesting learning curve and we've developed many ideas, skills and code snippets which we will be of use in future projects. However, while preparing the paid plans we recognized that we had no desire to run Tunlr as a paid service. Running Tunlr as a good-quality and reliable, paid service requires more time than we're willing to devote to the cause. OpenVPN - Open Source VPN. VPN gratuit : créez des réseaux virtuels grâce à Hamachi | LogMeIn Hamachi. Mise en réseau à la demande Créez et gérez des réseaux virtuels selon vos besoins.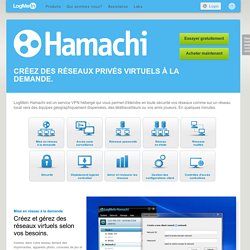 Insérez dans votre réseau distant des imprimantes, appareils photo, consoles de jeu et bien d'autres choses encore, à la demande et par le web. Réseau en étoile à point central Offrez aux utilisateurs l'accès à des ordinateurs spécifiques. Offrez aux utilisateurs distants un accès sécurisé à des ordinateurs spécifiques de votre réseau, à partir d'un emplacement quelconque, sans modifier les pare-feu ou les routeurs.
Home. Air VPN - The air to breathe the real Internet. CyberGhost VPN - Navigation anonyme - Téléchargez-le et utilisez-le gratuitement dès maintenant | CyberGhost VPN. Hide your IP address and surf anonymously CyberGhost VPN lets you surf anonymously by hiding your IP address and replacing it with that of the server you choose to connect to, making it impossible for hackers, third parties or other organizations to track you or meddle in your business.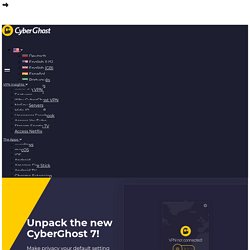 Protect your private data Every time you connect through CyberGhost VPN a protective tunnel is formed around your information and all your data becomes encrypted. You don't have to worry anymore about passwords, financial transactions or private conversations. Unblock websites. Hotspot Shield. Free VPN by WSC.
---