Journalisme
La data visualization -- l'art d'organiser les données sous forme graphique -- se pratique de plus en plus souvent sur Internet: c'est là qu'on l'apprivoise facilement, grâce aux nombreux outils permettant de construire une infographie en quelques clics, là aussi qu'on exploite le mieux son potentiel interactif, et là encore qu'elle circule le plus vite, grâce aux réseaux de blogueurs passionnés de graphisme. Mais la semaine dernière, c'est un lieu bien physique qui a mis la «dataviz» à l'honneur. Sept jours durant, l'agence numérique La Fonderie a investi le pittoresque campus des Cordeliers , à Paris, pour y exposer en grand format une cinquantaine d'infographies parmi les plus marquantes de ces dernières années. Toutes ou presque restent visibles sur le site de l'«Expoviz» ... L'occasion, pour les novices comme pour les amateurs, de réviser leurs classiques.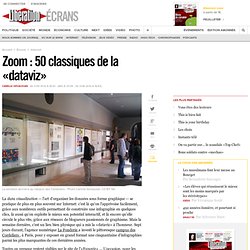 Zoom : 50 classiques de la « dataviz »
The Daily Viz | By Matt Stiles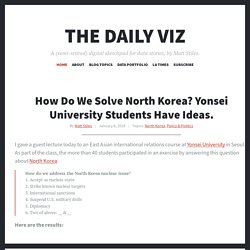 A car burglar last week nabbed a radio from our car, prompting me to think (once again) about crime in Washington, D.C., where I live. I wanted to know if certain crimes were more common in particular neighborhoods, so I downloaded a list of every serious crime in 2012 from the city's data portal. The data contained about 35,000 reported incidents of homicides, thefts, assaults, etc., with fields listing the date, time and neighborhood associated with each case.
chartsnthings
19 Sketches of Quarterback Timelines On Sunday Eli Manning started his 150th consecutive game for the Giants, the highest active streak in the NFL and the third-longest streak in NFL history. (One of the other two people above him is his brother, Peyton.) The graphics department published an interactive graphic that put Eli's streak in the context of about 2,000 streaks from about 500 pro quarterbacks. The graphic lets you explore the qbs and search for any quarterback or explore a team to go down memory lane for your team.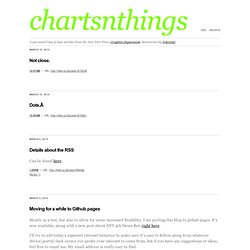 Barack Obama and Mitt Romney will be face-to-face again on TV for their second debate. A debate, bi its nature, shouldn't be a subject easy to visualize, but day after the day, media gets to publish great graphics, in a record time, about what is said on these spaces. These are some examples of graphics on this topic, new and old. The New York Times: the replay No surprises. NYT uses to do spectacular (and effective graphics) with almost any topic.
Infographics news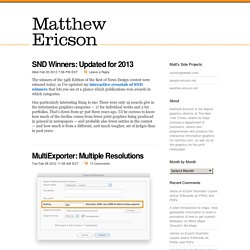 The winners of the 34th Edition of the Best of News Design contest were released today, so I've updated my interactive crosstab of SND winners that lets you see at a glance which publications won awards in which categories. One particularly interesting thing to me: There were only 19 awards give in the information graphics categories — 17 for individual works and 2 for portfolios. That's down from 97 just three years ago. I'd be curious to know how much of the decline comes from fewer print graphics being produced in general in newspapers — and probably also fewer entries in the contest — and how much is from a different, and much tougher, set of judges than in past years. Just pushed out an update to the Adobe Illustrator MultiExporter script that lets you specify if you want to export PNGs and JPGs at a different scale factor so that you can generate versions of the images at double resolution for iPhone retina displays.
Matthew Ericson – ericson.net