From_Safari
Reduction Mammaplasty Is a Functional Operation, Improving Quality of Life in Symptomatic Women: A Prospective, Single-Center Breast Reduction Outcome Study.
time management
https://access.wustl.edu/CitrixFEI/Folder.asp?LFE=false&Folder=XFxtZWR1bGxhXG90ZGVwdHNcU3R1ZGVudFxQQUNT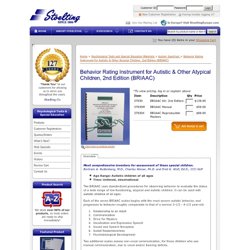 Most comprehensive inventory for assessment of these special children. Bertram A. Ruttenberg, M.D., Charles Wenar, Ph.D. and Enid G. Wolf, Ed.D., CCC-SLP Age Range: Autistic children of all ages Time: Untimed, observational The BRIAAC uses standardized procedures for observing behavior to evaluate the status of a wide range of low-functioning, atypical and autistic children.
Behavior Rating Instrument for Autistic & Other Atypical Children, 2nd Edition (BRIAAC)
AFV - America's Funniest Home Videos - Primetime - Video Player
SouthParkLink's Channel