Unit 4
References (some are in Joyce's work)
Supporting teachers' reflection and learning through structured digital teaching portfolios
Portfolios for learning, assessment and professional development in higher education - Assessment & Evaluation in Higher Education - Volume 31, Issue 3
eprints.ioe.ac.uk/4202/1/TurnerSimon2007Portfolios89.pdf
The effectiveness of portfolios for post-graduate ... [Med Teach. 2009
BEME Guides
The effectiveness of portfolios for post-graduate assessment and education: BEME Guide No 12, Medical Teacher
M.E.T. - Boise State University - Educational Technology
The Master of Educational Technology is our professional degree, focusing on skills for improved performance at all levels of education, in the classroom and beyond. Course work focuses on theoretical foundations, hands-on technology skills, and integration strategies for today's learning environments. All M.E.T. students will complete a Portfolio as their Culminating Activity.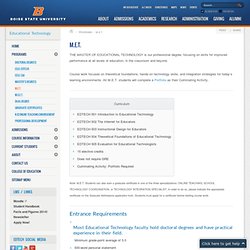 How Do We Assess Learning Effectiveness in Internet Courses for Oncampus Students | The Sloan Consortium®
www.bathspa.ac.uk/schools/education/cpd/2010-11 docs/M-Level_Seminar5_8Mar11.pdf
Marking Criteria for 35-hour Masters level open assessments
Marking criteria for assessing practice-bas... [Nurse Educ Today. 2005
Queen's University Belfast | Academic Writing
MABS taster: Course Handbook (Distinction)
These notes were originally prepared for fellow-tutors as a first contribution to a debate, and never intended for wider circulation, but feedback from their first accidental appearance justifies their (minimally revised) re-appearance, and requests from a number of universities to adapt and re-print them. So you may have seen them somewhere else already!
Writing at Master's Level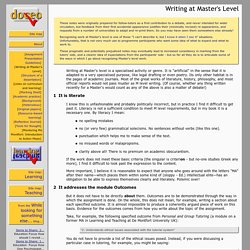 www.qaa.ac.uk/Publications/InformationAndGuidance/Documents/FHEQ08.pdf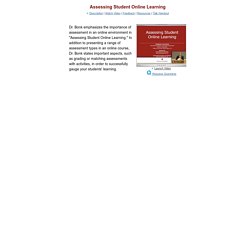 www.indiana.edu/~icy/media/de_series/assessing_online_learning.html
Resources General Links
How%20to%20Use%20Level%20Descriptors