Unit 4
References (some are in Joyce's work)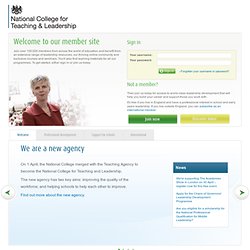 On 1 April, the National College merged with the Teaching Agency to become the National College for Teaching and Leadership. The new agency has two key aims: improving the quality of the workforce; and helping schools to help each other to improve. Find out more about the new agency. We can help you to develop as a leader and achieve your career goals. Whether you're taking on your first leadership role or are an experienced and successful school or children's centre leader, we have something for you. We also offer professional development for chairs of governors and school business managers.
Supporting teachers' reflection and learning through structured digital teaching portfolios
Portfolios for learning, assessment and professional development in higher education - Assessment & Evaluation in Higher Education - Volume 31, Issue 3
eprints.ioe.ac.uk/4202/1/TurnerSimon2007Portfolios89.pdf
The effectiveness of portfolios for post-graduate ... [Med Teach. 2009
Portfolios in post-graduate healthcare education are used to support reflective practice, deliver summative assessment, aid knowledge management processes and are seen as a key connection between learning at organisational and individual levels. This systematic review draws together the evidence on the effectiveness of portfolios across postgraduate healthcare and examines the implications of portfolios migrating from paper to an electronic medium across all professional settings. A literature search was conducted for articles describing the use of a portfolio for learning in a work or professional study environment. It was designed for high sensitivity and conducted across a wide range of published and unpublished sources relevant to professional education. No limits for study design or outcomes, country of origin or language were set.
BEME Guides The effectiveness of portfolios for post-graduate assessment and education: BEME Guide No 12 2009, Vol. 31, No. 4 , Pages 299-318 (doi:10.1080/01421590902883056) Claire Tochel1†, Alex Haig1, Anne Hesketh1, Ann Cadzow1, Karen Beggs1, Iain Colthart1 and Heather Peacock1 1NHS Education for Scotland, UK
The effectiveness of portfolios for post-graduate assessment and education: BEME Guide No 12, Medical Teacher
M.E.T. - Boise State University - Educational Technology
The Master of Educational Technology is our professional degree, focusing on skills for improved performance at all levels of education, in the classroom and beyond. Course work focuses on theoretical foundations, hands-on technology skills, and integration strategies for today's learning environments. All M.E.T. students will complete a Portfolio as their Culminating Activity.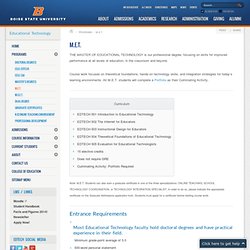 How Do We Assess Learning Effectiveness in Internet Courses for Oncampus Students | The Sloan Consortium®
www.bathspa.ac.uk/schools/education/cpd/2010-11 docs/M-Level_Seminar5_8Mar11.pdf
Marking Criteria for 35-hour Masters level open assessments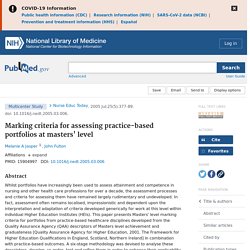 Marking criteria for assessing practice-bas... [Nurse Educ Today. 2005
<p class="nojs"><strong>Warning:</strong> The NCBI web site requires JavaScript to function. <a href="http://www.ncbi.nlm.nih.gov/corehtml/query/static/unsupported-browser.html#enablejs" title="Learn how to enable JavaScript" target="_blank">more...</a></p>
Queen's University Belfast | Academic Writing
MABS taster: Course Handbook (Distinction)
These notes were originally prepared for fellow-tutors as a first contribution to a debate, and never intended for wider circulation, but feedback from their first accidental appearance justifies their (minimally revised) re-appearance, and requests from a number of universities to adapt and re-print them. So you may have seen them somewhere else already! Recognising work at Master's level is one of those "I can't describe it, but I know it when I see it" situations. Unfortunately, that is not very much use to programme participants who want some idea of what to expect and what to work to. These pragmatic and potentially prejudiced notes may eventually lead to increased consistency in marking from the tutors' side, and a clearer idea of expectations from the participants' side - but so far all they do is to articulate some of the ways in which I go about recognising Master's level work. Writing at Master's level is a specialised activity or genre.
Writing at Master's Level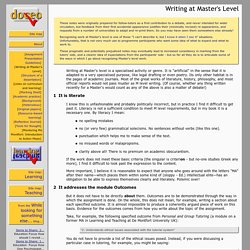 www.qaa.ac.uk/Publications/InformationAndGuidance/Documents/FHEQ08.pdf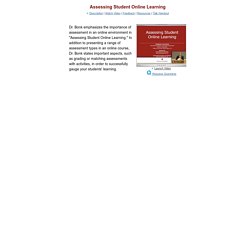 www.indiana.edu/~icy/media/de_series/assessing_online_learning.html
Resources General Links Faculty Focus: Assessing Online Learning http://www.facultyfocus.com/free-report/assessing-online-learning-strategies-challenges-and-opportunities/?c=FF&t=F100806 MSU: Student Assessment http://vudat.msu.edu/assessment/ UC Berkley: Collaborative Learning http://teaching.berkeley.edu/bgd/collaborative.html
How%20to%20Use%20Level%20Descriptors