AI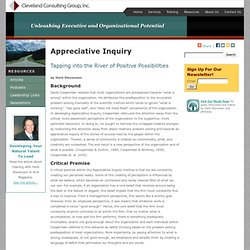 Appreciative Inquiry: Tapping into the River of Positive Possibilities | Cleveland Consulting Group, Inc.
by Herb Stevenson Background David Cooperrider realized that most organizations are predisposed towards "what is wrong" within the organization. He attributed this predisposition to the inculcated problem-solving mentality of the scientific method which tends to ignore "what is working", "has gone well", and "does not need fixed" components of the organization. In developing Appreciative Inquiry, Cooperrider refocused the attention away from the critical, more pessimistic perceptions of the organization to the supportive, more optimistic behaviors. In doing so, he sought to harness the untapped creative energies by redirecting the attention away from object relations problem solving and towards an appreciative inquiry of the stories of success held by the people within the organization.
On this page you will find Gervase Bushe's thoughts on... What is Appreciative Inquiry? Appreciative Inquiry has been effectively applied in the following ways: If you want to read more about Appreciative Inquiry.... G.R. Bushe (2012) Foundations of Appreciative Inquiry: History, Criticism and Potential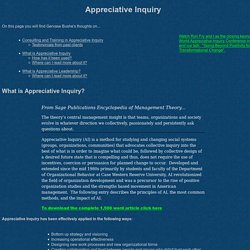 Appreciative Inquiry Resources by Gervase Bushe
Appreciative Inquiry - What is Appreciative Inquiry?
Solving Problems by Looking at What's Going Right © iStockphoto/Yuri_Accurs Imagine that your organization's order book is full, and you're desperate to expand your business – but you just can't find the staff you need.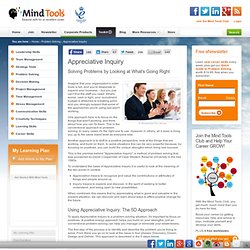 from A Positive Revolution in Change: Appreciative Inquiry by David L. Cooperrider and Diana Whitney. Ap-pre'ci-ate, v., 1. valuing; the act of recognizing the best in people or the world around us; affirming past and present strengths, successes, and potentials; to perceive those things that give life (health, vitality, excellence) to living systems 2. to increase in value, e.g. the economy has appreciated in value.