Women leader
Europe. Business Resources. JK Rowling: The fringe benefits of failure. Why a Happy Brain Performs Better - HBR IdeaCast. Featured Guest: Shawn Achor, CEO of Aspirant and author of The Happiness Advantage: The Seven Principles of Positive Psychology That Fuel Success and Performance at Work. Download this podcast SARAH GREEN: Welcome to the HBR IdeaCast from Harvard Business Review. I'm Sarah Green.
Hbr-build-risk-business-model.pdf (application/pdf Object) ISO26000. Business DD / CSR / BOP. ISO 26000: A New Standard for Human Rights? - Guest Commentary. March 23rd 2010 | by Adrian Henriques ISO 26000 will be a standard for social responsibility produced by the International Standards Organisation (ISO).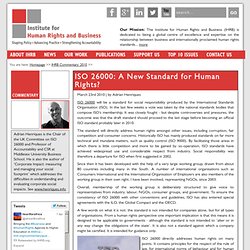 In the last few weeks a vote was taken by the national standards bodies that compose ISO's membership. It was closely fought - but despite controversies and pressures, the outcome was that the draft standard should proceed to the last stage before becoming an official ISO standard probably later in 2010. Julian Assange. Better World... ISO 26000 sur la Responsabilité Sociétale : projet approuvé ! Le projet de norme internationale ISO 26000 "Lignes directrices relatives à la responsabilité sociétale des organisations" vient d'être approuvé par les 2 tiers des pays membres de l'ISO qui ont participé au suffrage.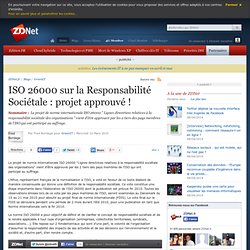 L'Afnor, représentant français de la normalisation à l'ISO, a voté en faveur de ce texte élaboré de manière consensuelle qui donne une définition de la responsabilité sociétale. Ce vote constitue une étape importante dans l'élaboration de l'ISO 26000 dont la publication est prévue fin 2010. Toutes les observations émises lors de ce vote par les pays membres de l'ISO, seront examinées au Danemark du 15 au 21 mai 2010 pour aboutir au projet final de norme internationale (FDIS). Le vote final sur le FDIS se déroulera pendant une période de 2 mois durant l'été 2010, pour une publication en tant que Norme internationale vers la fin 2010.
Le défi de diriger des leaders ou « comment mener un troupeau de chats » (74478) Par Anne-Geneviève Girard, CRHA et René Jolicoeur, CRHA, Note : S'intéressant à la performance des équipes de direction, ce texte est le dernier d'une série de trois articles sur la gestion des talents.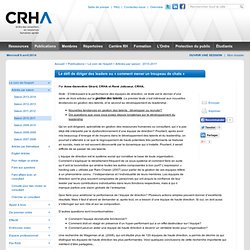 Le premier texte s'est intéressé aux nouvelles tendances en gestion des talents, et le second au développement du leadership : Qu'on soit dirigeant, spécialiste en gestion des ressources humaines ou consultant, qui n'a pas déjà été interpellé par le dysfonctionnement d'une équipe de direction? Pourtant, après avoir mis beaucoup d'énergie et de moyens dans le développement des talents et du leadership, on pourrait s'attendre à ce que le regroupement de hauts potentiels très performants se traduise en succès, mais on est souvent déconcerté par la dynamique qui s'installe. TheImpactOfHRMonOrgnaizationalPerformance.pdf - Powered by Google Docs.
Vidéos Pearltrees
INNOVATION. Food business incubator. Geisha-Inspired Fashions - Armani Privé Couture 2011 Collection Inspired by Japanese Culture. The Armani Privé Fall 2011 Couture show beautifully paid tribute to the people of Japan who were affected by the tragic earthquake in March.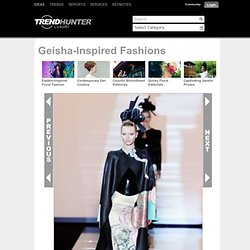 The collection was a personal one for Giorgio Armani, who has been supporting a UNESCO scholarship program that has been helping children who were harmed by the natural disaster. With Oriental-style prints, origami-inspired folds and pleats in the clothing, the Armani Privé collection's Japanese influence is hard to deny. The models also wore intricate, bowlike headpieces by world-famous hat designer Philip Treacy. While the collection will surely instill in fans and fashion-lovers all around the world a desire to incorporate Asian-inspired pieces into their wardrobes, the show is not just about the clothing, but it is an emotional experience and touching tribute as well. CSI Home. By Social Entrepreneurs, For Social Entrepreneurs® Welcome to SkollWorldForum.org former Social Edge users!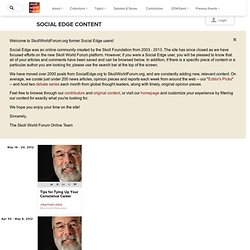 Social Edge was an online community created by the Skoll Foundation from 2003 - 2013. The site has since closed as we have focused efforts on the new Skoll World Forum platform. However, if you were a Social Edge user, you will be pleased to know that all of your articles and comments have been saved and can be browsed below. In addition, if there is a specific piece of content or a particular author you are looking for, please use the search bar at the top of the screen. Democracy Now! Mobile. AMY GOODMAN: Today, a Democracy Now!
Exclusive, as we turn to the resolution of one of the most significant U.S. government whistleblower cases to result from the Iraq war. The former chief oversight official of contracts at the Army Corps of Engineers has reached a settlement six years after she was demoted for publicly criticizing a multi-billion-dollar, no-bid contract to Halliburton. That's the company that was formerly headed by, well, then-Vice President Dick Cheney. The official, Bunnatine Greenhouse, known as Bunny Greenhouse, had accused the Pentagon of unfairly awarding the contract to Halliburton subsidiary Kellogg Brown & Root, KBR. Testifying before Congress in June 2005, Bunny Greenhouse called the contract the worst case of government abuse she had ever witnessed in her 20-year career. The Reinvention of Philanthropy: An Interview With The Aspen Institutes' Jonathan Greenblatt. Jonathan Greenblatt currently serves as the Director of The Impact Economy Initiative at the Aspen Institute and is the founder and former president of All for Good (Our Good Works [OGW]), the open source, web-based initiative to engage more Americans in service.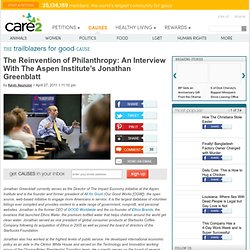 It is the largest database of volunteer listings ever compiled and provides content to a wide range of government, nonprofit, and personal websites. Jonathan is the former CEO of GOOD Worldwide and the co-founder of Ethos Brands, the business that launched Ethos Water, the premium bottled water that helps children around the world get clean water. Jonathan served as vice president of global consumer products at Starbucks Coffee Company following its acquisition of Ethos in 2005 as well as joined the board of directors of the Starbucks Foundation.
Jonathan also has worked at the highest levels of public service. The Innovative Business Models Leading the Next Wave of Sustainability | Business. When is enough enough?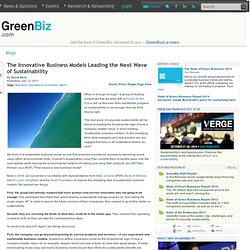 A group of leading companies that we work with at Forum for the Future tell us that even their substantial progress on sustainability is not enough. And we think they're right. The next wave of corporate sustainability will be about innovating the fundamental logic of how a company creates value, in short creating "sustainable business models. " In this emerging field, what examples and best practice can you suggest that help us all understand what to do next?
We think of a sustainable business model as one that achieves commercial success by delivering social value within environmental limits.
Amazing Women Rock - TED Talks. Leaders Awards 2011: PwC and the financial case for carbon accounting - 12 Jul 2011 - Profile from BusinessGreen. ‪Leadership, Motivational Management Training,Great Events. Conference Keynote Speaker for 4,500‬‏ ‪Secret of Change Management - motivation, leadership skills, development, styles and business strategy - motivational conference keynote speaker - speech by Patrick Dixon‬‏
‪Business strategy‬‏
---