Judaism
Hundred's of Links's to Jewish Index with thousands of links to Jewish everything worldwide...
A History of the Abuyudaya Jews of Uganda
By Arye Oded (Israeli Ambassador to Kenya) King Mutesa I (1856-1884) of Buganda introduced far-reaching religious, social, and administrative reforms in his kingdom. He was motivated by various factors. This shrewd king eager for knowledge strove to strengthen his kingdom by utilizing the superior technology that he discovered among the Arab traders and the Europeans which visited him. His foreign policy was to gain the friendship of the Sultan of Zanzibar and the support of the Arab traders; from these he hoped to obtain weapons to establish his authority over his neighbours and prevent a possible Egyptian inversion from the North.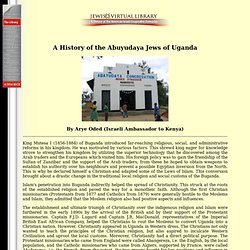 This website contains the complete contents of the 12-volume Jewish Encyclopedia, which was originally published between 1901-1906. The Jewish Encyclopedia, which recently became part of the public domain, contains over 15,000 articles and illustrations. This online version contains the unedited contents of the original encyclopedia. Since the original work was completed almost 100 years ago, it does not cover a significant portion of modern Jewish History (e.g., the creation of Israel, the Holocaust, etc.).
Hebrew at Stanford: Multimedia