Panorama/Software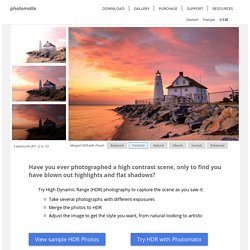 News 20-Nov-13: Photomatix Pro 5.0 released: Adds Contrast Optimizer Tone Mapping for realistic-looking results, new Fusion method for real estate photography, multiple settings batching, and option to enable fusion from a single RAW file. 9-Mar-13: Lightroom plugin Merge to 32-bit HDR updated to v1.1 1-July-12: Photomatix HDR plugin for Aperture updated to v2.1 30-Apr-2012: Photomatix Pro 4.2 is released. Updates include preset thumbnails display options, improved preview size controls, and Finishing Touch adjustments for contrast and sharpening.
International VR Photography Association -
Panotools- Panoramic stitchers | QTVR-QuickTime VR software | Pa
AutoPano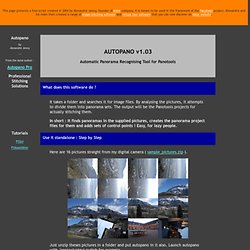 It takes a folder and searches it for image files. By analysing the pictures, it attempts to divide them into panorama sets. The output will be the Panotools projects for actually stitching them. In short : it finds panoramas in the supplied pictures, creates the panorama project files for them and adds sets of control points ! Easy, for lazy people.