For:opsomai
EasyWMV. EasyWMV can be used to convert or resize wmv, asf, avi, mp4, mpg, mpeg, mov, m4v, flv, nsv, swf, real media, and vob video files so that they can be used with QuickTime Player, Apple TV, iPod and iPhone.
EasyWMV has a very simple user interface, supports drag and drop as well as batch processing. EasyWMV can export video to mpeg and mpeg4 formats and can optimize videos for playback on iPod. Input formats: asf, avi, flv, m4v, mp4, mpg, mpeg, mov, nsv, swf (uncompressed), vob, wmv, real media Manual or automatic audio bit rate selection from source (32-320kbps) Creates video for QuickTime, Apple TV, iPod and iPhone. Media Convert - convertisseur gratuit et en ligne - conversion a. VisualHub: The Universal Video Converter for Mac. FAQ:Wait, what's all this about?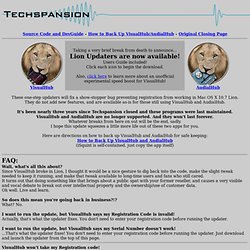 Since VisualHub broke in Lion, I thought it would be a nice gesture to dig back into the code, make the slight tweak needed to keep it running, and make that tweak available to long-time users and fans who still cared. It turns out that doing something like that brings about a public spat with your former reseller, and causes a very visible and vocal debate to break out over intellectual property and the ownership/use of customer data.Oh well. Live and learn. So does this mean you're going back in business?!? Perian - The swiss-army knife of QuickTime® components. Ken Villines 1.0 » Blog Archive » Quicktime Javascript Exampl. Wilson tutorial javascript control quicktime. The functions can be used for more complex actions.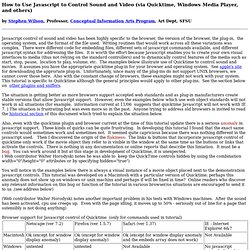 In this example they allow you to dynamically set the volume level of the sound. The example below shows a button and a text field used to set the volume. Notice that the form's text field returns a text value. The VolumeIt() function requires a value. Weblog Usability: Top Ten Design Mistakes in Blogs (Jakob Nielse.
---