Methode
Giant duck January 5th, 2013 This giant duck is bobbing around in Darling Harbour at the moment. Part of the Festival of Sydney.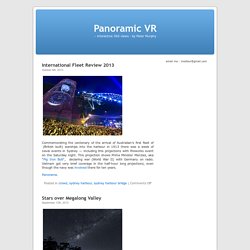 Peter Murphy's Panoramic VR Weblog
Publish your Panorama!
This tutorial covers most of the methods and software I use for the creation of Big Ben's Virtual Victoria and other panoramas. There are many ways to achieve the same result and each person has heir own preferences for the way they work. These are mine, although many of the ideas have also been passed on by others so I can't take sole credit for them. To keep up to date with tips and suggestions I'd thoroughly recommend you subscribe to the Immersive Imaging mailing list . I've split the tutorial up into separate sections partly because it was getting so big, and partly because not everyone needs the entire tutorial. Such is the nature of the software that there are many uses other than the panoramas you see on my website.
Tutorial by Ben Kreunen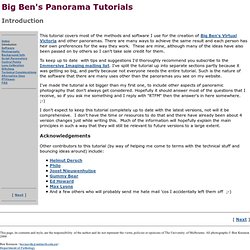 Lens calibration with panorama Tools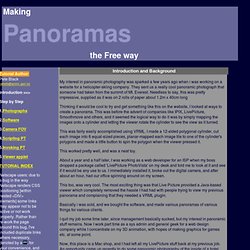 Making Panoramas the Free way
Tutorial Author: Pete Black peterb@actrix.gen.nz Introduction ==> Step by Step 1. Photographs
QuickTime is an example of media that is not directly handled by web browsers. When a browser encounters a reference to such media in an html document, it can either hand the media file off to an external application (i.e. QuickTime Player in the case of QT or QTVR) or use an extension to the core browser software, a plugin or ActiveX control.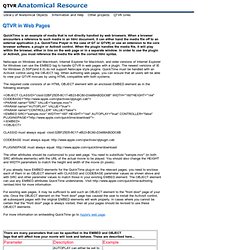 QTVR Anatomical Resource
Panotools tutorial | QuickTime VR tutorial | QTVR tutorial - Tut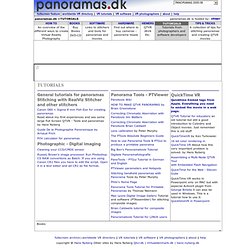 QuickTime VR Quicktime Embed tags from Apple. Everything you need to embed the movie in a web page. QTVR Tutorial for educators an old tutorial but still a good introduction to Cylindric and Object movies.
Tutorials - PanoTools
QTVR pano The Process of Making a Pano
360days/blognoise/63/qtvr-podc...
QTVR podcast genre: texts by mickael par ici pour la version française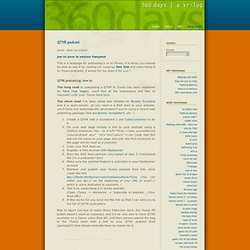 Graphic Designers - La Grille / The grid
Point nodal et pupille d'entrée en photographie panoramique
>FromParis - Technical documentation and tutorials : panorama