Logiciel
Smart uninstall software Many software titles on Mac OS come with the uninstall directions of simply "Drag the application to the Trash and empty it". In reality, this often leaves many related files on the computer taking up valuable hard drive space.
Amnesia — Easily Uninstall Applications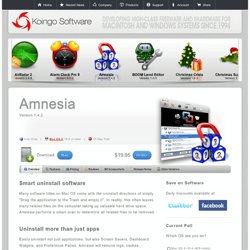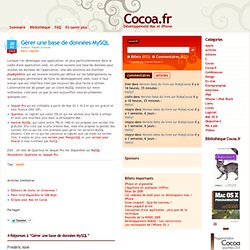 25 02 2009 Auteur: Fabien Schwob Dans: Logiciel Lorsque l'on développe une application, et plus particulièrement dans le cadre d'une application web, on utilise souvent une base de données pour stockés les données de l'application. Une des solutions est d'utiliser phpMyAdmin qui est souvent installé par défaut sur les hébergements ou les packages permettant de faire du développement web, mais il faut avouer que son interface n'est pas toujours des plus facile à utiliser. L'alternative est de passer par un client MySQL installé sur votre ordinateur, c'est pour ça que je vais aujourd'hui vous en présenter quelques-uns : Sequel Pro qui est utilisable à partir de Mac OS X 10.5 et qui est gratuit et sous licence GNU GPL.
Gérer une base de données MySQL