Internet/Podcasting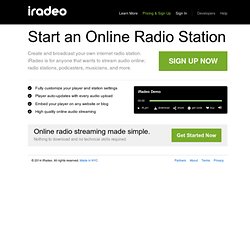 Start an Online Radio Station Publish Your Own Podcast Custom Online MP3 Player Share Your Audio Online Create and broadcast your own internet radio station. iRadeo is for anyone that wants to stream audio online; radio stations, podcasters, musicians, and more. Fully customize your player and station settings Player auto-updates with every audio upload Embed your player on any website or blog High quality online audio streaming
Free Online Radio Streaming Platform - iRadeo
Capture life moments wherever they happen using your mobile phone. See the hundreds of phones supported » Videos are instantly uploaded to the web for sharing or safe-keeping.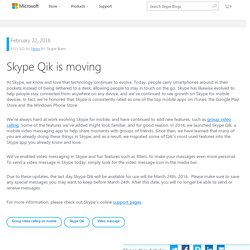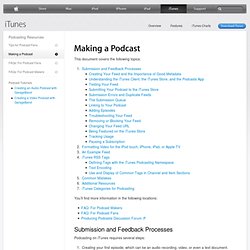 iTunes - Podcasts - Technical Specification
This document covers the following topics: You'll find more information in the following locations: Submission and Feedback Processes Podcasting on iTunes requires several steps: Creating your first episode, which can be an audio recording, video, or even a text document.
A podcast is a digital medium consisting of an episodic series of audio, video, PDF, or ePub files subscribed to and downloaded through web syndication or streamed online to a computer or mobile device. The word is a neologism and portmanteau derived from "broadcast" and "pod" from the success of the iPod, as audio podcasts are often listened to on portable media players. Merriam Webster defines Podcast: a program (as of music or talk) made available in digital format for automatic download over the Internet[1]