GIS
News 15 Jan 2014 - Online maps to highlight environmental offset sitesThe ACT's online planning maps will now feature information about environmental offsets, which are sites designed to compensate for biodiversity impacts arising from development. More.17 Dec 2013 - Flood data now on ACTMAPi New flood data is now available on ACTMAPi, the ACT Government's interactive online mapping service. More10 Dec 2013 - Changes affecting duplex houses Changes to the Planning and Development Regulation 2008 have been introduced that now require a Development Application (DA) for the demolition, alteration and/ or rebuilding of a duplex house.
ACT Planning and Land Authority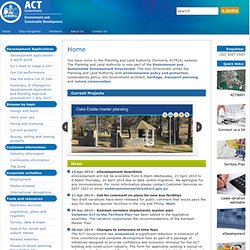 OGE - Ordre des Géomètres-Experts
Products
from Open Source Geospatial Fundation
OSSIM is a powerful suite of geospatial libraries and applications used to process imagery, maps, terrain, and vector data. The software has been under active development since 1996 and is deployed across a number of private, federal and civilian agencies. OSSIM Apps ¶ Command Line Applications - ossim-info, ossim-orthoigen, ossim-dem, ...