Geotag
GPSTagr: geotag flickr photos using GPS. Yuan.CC Maps. Flyr - Flickr Geotagged Photos Map. GreaseMap : a Greasemonkey script to add a google map to a page. Greasemap is not the main product of Vinq -- it is just a free GPL plugin we released as a sideline to our main business of software development consulting for Fannie Mae Foundation and other large clients.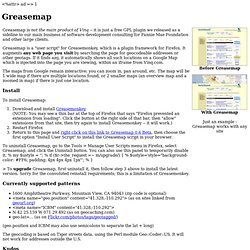 Greasemap is a "user script" for Greasemonkey, which is a plugin framework for Firefox. It augments any web page you visit by searching the page for geocodeable addresses or other geotags. Geobloggers - geoblogger users kicking ass since May 2005. Magnalox - magnificent GPS logs and interactive reports. Yuan.CC Flickr Tools. .CK says: The GMiF v3.5 is released.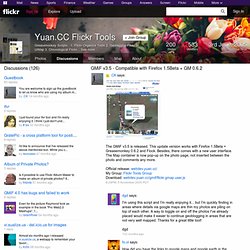 This update version works with Firefox 1.5Beta + Greasemonkey 0.6.2 and Flock. Besides, there comes with a new user interface. The Map container is now pop-up on the photo page, not inserted between the photo and comments any more. Geobloggers - geoblogger users kicking ass since May 2005. SmugMaps: combining the power of Google Maps with 36,000,000+ s.
GeoRDF - ESW Wiki. An RDF compatible profile for geo information (points, lines and polygons) Implementation ChrisGoad's suggestion for how GeoRDF as a flexible standard might be presented (in principle all the software projects in the informal ecology would have to implement both a simpler and a more complex profile..