Recipe for baking
Shortbread Tarts w/Cream Filling Recipe With Picture - Joyofbaki. Cream Cheese Filling: In your food processor or electric mixer, beat the cream cheese until creamy and smooth.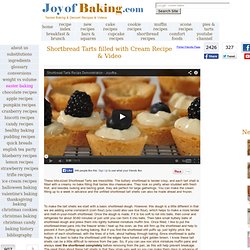 Add the condensed milk, lemon juice, lemon zest, and vanilla and process just until smooth. (Do not over process or the filling will be too runny.) Transfer the filling to a bowl, cover, and refrigerate for 6-8 hours, or preferably overnight. Can be covered and stored in the refrigerator for about a week. Shortbread Tarts: Lightly butter, or spray with a nonstick vegetable spray, 36 miniature muffin tins (approximately 2 inch (5 cm) in diameter).
Whipped Cream Frosting Recipe With Picture - Joyofbaking.com *Te. Whipped Cream Frosting: Place your mixing bowl and wire whisk in the freezer for about 15-30 minutes.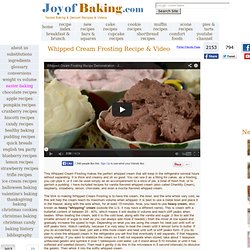 Then place all the ingredients in the cold bowl and beat just until stiff peaks form. If not using immediately, cover and refrigerate. Makes about 2 cups (480 ml) whipped cream. Raspberry Whipped Cream: Make the whipped cream frosting but beat only until very soft peaks form. Then add the raspberry puree or jam, and beat just until stiff peaks form. Strawberry Cupcakes with Strawberry Buttercream and more delicio. Lemon Bars Recipe With Picture. Lemon Bars: Preheat oven to 350 degrees F (177 degrees C) and place the oven rack in the center of the oven.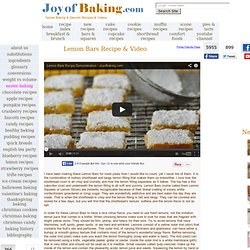 Butter, or spray with a non stick vegetable spray, an 8 x 8 inch (20 x 20 cm) pan. Shortbread Crust: In the bowl of your electric mixer, or with a hand mixer, beat the butter and sugar until creamy and smooth.
---