Tattoo
"Now we are the kids from yesterday" This is right after it was done. This is a lyric from a My Chemical Romance song called The Kids from Yesterday. This band in general means so much to me and has helped me through a lot, this song is outstanding and the lyrics mean a lot.
The Words to Every Song
The Word Made Flesh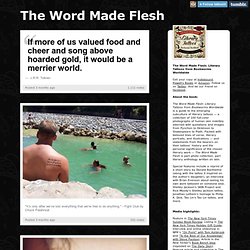 If more of us valued food and cheer and song above hoarded gold, it would be a merrier world. "It's only after we've lost everything that we're free to do anything." - Fight Club by Chuck Palahniuk From "Harry Potter and the Sorcerer's Stone" From Ernest Hemingway's "A Farewell to Arms": "I can keep you safe but nobody can help themselves." Done by Megon at Fist Full of Metal in Seattle, WA.
Rib. - Tattoologist | Rodeo Magazine
Elspeth H The symbol is part of a west African collection of symbols called Adinkra, and it's called Epa (meaning handcuffs) and it represents law and justice. Guadalupe (Buenos Aires, Argentina) "The essential is invisible to the eyes", from The little prince, in spanish. Froso (Greece) "πουθενά δεν πάω, μ'ακούς ή κανείς ή κι οι δύο μαζί, μ'ακούς" - "I'm not going anywhere, do you hear me. Either nobody or both of us together, do you hear me" It's Greek, my own handwriting from The Monogram written by Odysseus Elytis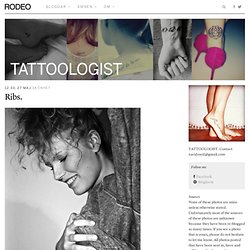 lets get inked baby!
Tattoologist | Rodeo Magazine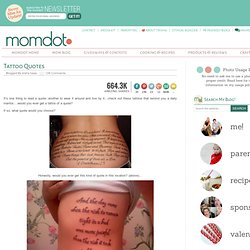 Tattoo Quotes - Influential Mom Blogger, Parenting, Community
664.3K Amazing Shares Facebook 20 Pin It Share 236 236 Twitter 23 Google+ 11 StumbleUpon 664K Email -- Email to a friend 664.3K Amazing Shares × It's one thing to read a quote, another to wear it around and live by it…check out these tattoos that remind you a daily mantra….would you ever get a tattoo of a quote? If so, what quote would you choose? Honestly, would you ever get this kind of quote in this location? (above)…
Contrariwise: Literary Tattoos
This belongs to Emily T. The font was somewhat custom, a mix of two or three Microsoft Word fonts.I've read Slaughterhouse-Five countless times over the last few years; it always reads a different way. Each time I get a different insight, a new understanding of the book. There's too many feelings to express what Vonnegut sums up in three words; So it goes."And Lot's wife, of course, was told not to look back where all those people and their homes had been. But she did look back, and I love her for that, because it was so human.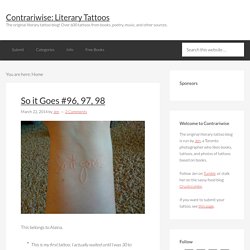 Literary Tattoos
Some people get tattoos of their love interest, their mom, their kids, or their pets. Others get cool things like skulls and crossbones. Then there are those out there who get tattoos based on movies, books, or comic books. Below you'll find a collection of some of the best literary tattoos on the web. They are good either because of their overall design, their placement, or their message.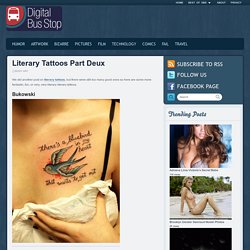 We did another post on literary tattoos , but there were still too many good ones so here are some more fantastic, fun, or very, very literary literary tattoos. Bukowski "but I'm too tough for him, I say, stay in there, I'm not going to let anybody see you." Bukowski. more Bukowski.
Literary Tattoos Part Deux
Tattoo Donkey
Tattoo Aftercare Instructions | Droid Biker - Motorcycles, Tech Stuff, Graphics, Photography
25 Wrist Tattoos | Penny's Daybook | www.PennysDaybook.com
There's always this one question that crosses everyone's mind at least once in their lives: Tattoos – Should I get one? Yes/No? Tattoos are quiet, inspiring artwork that carry stories and hide secrets on a human canvas. It's been said that wrist tattoos were used to ward off all sorts of illnesses and diseases. But today, many see wrist tattoos as simple inspirations as they brave through stormy weather – a glance at their wrists and hope fuels them.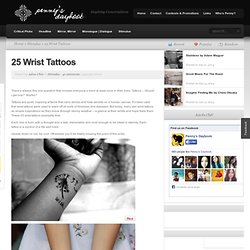 Go to mobile version LiveJournal You are viewing 's journal
The Prettiest Little Monster - Tattoos I Love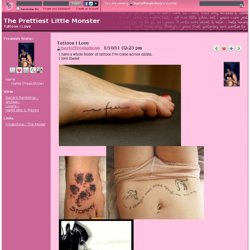 I N K
Tattoos :o
tattoos - Polyvore - StumbleUpon
Fuck Yeah, Tattoos!: Archive