Individual Artworks
Mountains of Books Become Mountains. I thought I'd seen every type of book carving imaginable, until I ran across these jaw dropping creations by Guy Laramee.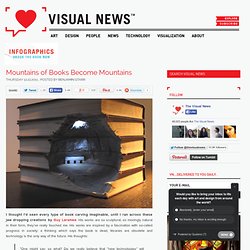 His works are so sculptural, so movingly natural in their form, they've really touched me. His works are inspired by a fascination with so-called progress in society: a thinking which says the book is dead, libraries are obsolete and technology is the only way of the future. His thoughts: Carved Book Landscapes by Guy Laramee. (click images for detail) For the better part of three decades multidisciplinary artist Guy Laramee has worked as a stage writer, director, composer, a fabricator of musical instruments, a singer, sculptor, painter and writer.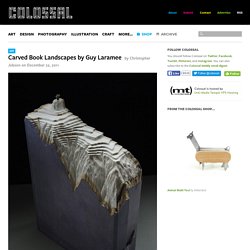 Among his sculptural works are two incredible series of carved book landscapes and structures entitled Biblios and The Great Wall, where the dense pages of old books are excavated to reveal serene mountains, plateaus, and ancient structures. Of these works he says: So I carve landscapes out of books and I paint Romantic landscapes. Barista Art - une expo. "2011 November" by Foxfires. Galleries / Print / Book Art - Love. Dream Worlds Revealed On Canvas. Along with some magnificent dreams, Jacek Yerka finds inspiration for his masterful paintings from his childhood memories: the places, remembered feelings and smells of 1950′s Poland.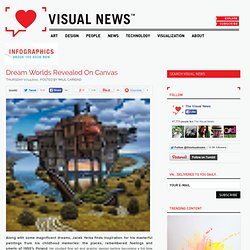 He studied fine art and graphic design before becoming a full time artist in 1980… and we're glad he did. His paintings will take you through incredible worlds of imagination, bending reality in captivating and clever ways fit to inspire a novel or film. See many more examples of his find paintings at yerkaland.com. See Also ENDEARING MONSTER DRAWINGS POP FROM THE SCREEN. 387352_1303402509_large.jpg (JPEG Image, 1480x984 pixels) - Scaled (65. Grimm and Other Folk Tales : Cory Godbey. Drowning Beautiful | 4d3999685cc4e2803fa7a5dfe1080912.jpg (JPEG Image, 900x11845 pixels) - Scaled (5%) Sistine Chapel.
Art Project, powered by Google.
---