Photography
Get flash to fully experience Pearltrees
Adobe After Effects is commonly used for creating visual effects and motion graphics.
Photographer/Diorama Artist Matthew Albanese constructs and photographs unreal real looking landscape scenes using readily accessible materials. Scroll through some of his work and be amazed at their realism, effort and the materials. Can you figure out what Matthew used to make each scene before reading it? No, no you can't. Matthew Albanese: "My work involves the construction of small-scale meticulously detailed models using various materials and objects to create emotive landscapes.
Natural light beams are always magical. You dont get to see them too often, but when you do – you have to stop and stare for a second. This week I collected 15 of the best light beam images found of Flickr.
In Infrared Photography the image sensor used is highly sensitive to infrared wavelengths of light. We all know that white light is composed of several bands of colours known as spectrum and the wavelengths ranging between 750nm to about 1200 nm, falls on infrared (IR) band. The spectrum used is in this technique is termed as near-infrared, to distinguish it from far-infrared, which has been Domain for Thermal imaging.
Here's the second part of jaw-dropping photographs from all over the world.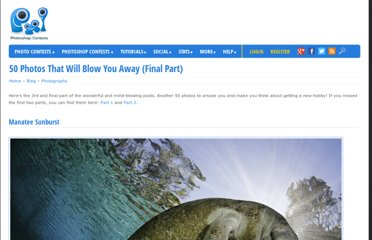 Here's the 3rd and final part of the wonderful and mind-blowing posts. Another 50 photos to amaze you and make you think about getting a new hobby! If you missed the first two parts, you can find them here: Part 1 and Part 2 .
Great news today: we will start a series of showcases that are meant to make the jaws drop!