Outsourcing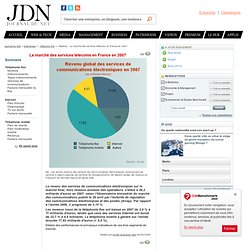 Repères : Le marché des services télécoms en France en 2007
Le revenu des services de communications électroniques sur le marché final, hors revenus annexes des opérateurs, s'élève à 39,2 milliards d'euros en 2007, selon l'Observatoire trimestriel du marché des communications publié le 29 avril par l'Autorité de régulation des communications électroniques et des postes (Arcep). Par rapport à l'année 2006, il progresse de 3,15 %. Les revenus issus de la téléphonie fixe ont baissé en 2007 de 3,6 % à 11 milliards d'euros, tandis que ceux des services Internet ont bondi de 22,7 % à 4,6 milliards. La téléphonie mobile a généré sur l'année écoulée 17,82 milliards d'euros (+ 5,9 %). Détails des performances et principaux indicateurs de ces trois segments de marché.
iZi mundi
RecentAgencies Tête de LectureAdvertisingTête de Lecture est une agence de communication nouvelle génération. Communiquer c'est savoir... Welcome oniZimundi website iZimundi.com is the leading online platform for creative, communication and language jobs.
Terminer un blog wordpress_ le premier d'un parc Je recherche un connaisseur de word press ayant des connaissances élargies sur le montage de sites web et Blogs pour d'abord terminer la partie technique du site [Url visible pour les membres Pro], l'optimisation SEO, et différente... WordpressMigration ou refonte de siteOptimisation SEOEmailingNetlinking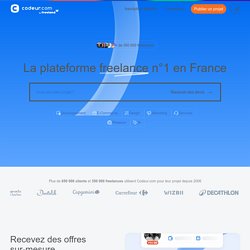 Envato Home / Directory Find a Freelancer Popular Tags
Outsource Freelance Work - FreelanceSwitch
Freelancer.com is the world's largest freelancing, outsourcing, and crowdsourcing marketplace for small business. With over 10 million users, you can hire a freelancer to do your contract work at a fraction of the cost. Whether you need PHP developers, web designers, or content writers, you can outsource jobs within minutes.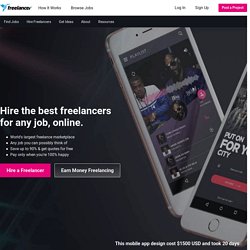 Find freelancers at the world's most-trusted online workplace. Elance is where businesses go to find, hire, collaborate with and pay top online freelancers from 170+ countries. A community of over 2.5 million freelancers and 500,000 businesses, on Elance it's easy to hire a top freelancer.