Outsourcing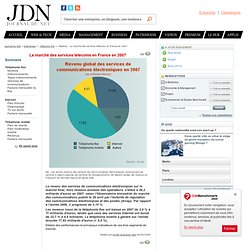 Repères : Le marché des services télécoms en France en 2007
Le revenu des services de communications électroniques sur le marché final, hors revenus annexes des opérateurs, s'élève à 39,2 milliards d'euros en 2007, selon l'Observatoire trimestriel du marché des communications publié le 29 avril par l'Autorité de régulation des communications électroniques et des postes (Arcep). Par rapport à l'année 2006, il progresse de 3,15 %. Les revenus issus de la téléphonie fixe ont baissé en 2007 de 3,6 % à 11 milliards d'euros, tandis que ceux des services Internet ont bondi de 22,7 % à 4,6 milliards. La téléphonie mobile a généré sur l'année écoulée 17,82 milliards d'euros (+ 5,9 %). Détails des performances et principaux indicateurs de ces trois segments de marché.
iZi mundi
RecentAgencies Web-LingoTranslationWeb-lingo is a Proudly South African translation agency. We offer professional translation and... PowerlingEditingPowerling existe depuis plus de 30 ans. L'agence permet la traduction de plus de 75 langues dans...
Écrire des articles concernant youtube downloader 1. Un article au sujet de YouTube Downloader et les tutoriels de télécharger des vidéos YouTube, vous avez besoin d'écrire des article plus détaillés, comme un sujet spécial. 2.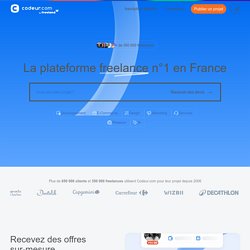 Envato Home / Directory Find a Freelancer Popular Tags
Outsource Freelance Work - FreelanceSwitch
Freelancer.com is the world's largest freelancing, outsourcing, and crowdsourcing marketplace for small business. With over 10 million users, you can hire a freelancer to do your contract work at a fraction of the cost. Whether you need PHP developers, web designers, or content writers, you can outsource jobs within minutes.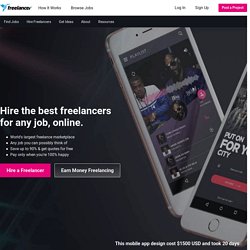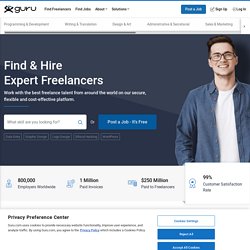 Discover the finest freelancers online. Post a Job (FREE) Want a Job? Join Now Watch how it works
Find freelancers at the world's most-trusted online workplace. Elance is where businesses go to find, hire, collaborate with and pay leading freelancers from more than 180 countries. With a community of over 3 million freelancers and 1 million businesses, on Elance it's easy to hire a top freelancer.