Outsourcing
Repères : Le marché des services télécoms en France en 2007. Le revenu des services de communications électroniques sur le marché final, hors revenus annexes des opérateurs, s'élève à 39,2 milliards d'euros en 2007, selon l'Observatoire trimestriel du marché des communications publié le 29 avril par l'Autorité de régulation des communications électroniques et des postes (Arcep).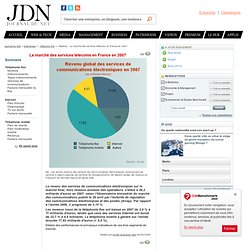 Par rapport à l'année 2006, il progresse de 3,15 %. Les revenus issus de la téléphonie fixe ont baissé en 2007 de 3,6 % à 11 milliards d'euros, tandis que ceux des services Internet ont bondi de 22,7 % à 4,6 milliards. La téléphonie mobile a généré sur l'année écoulée 17,82 milliards d'euros (+ 5,9 %). Détails des performances et principaux indicateurs de ces trois segments de marché. Amazon Mechanical Turk - Welcome. iZi mundi. RecentAgencies Web-LingoTranslationWeb-lingo is a Proudly South African translation agency.
We offer professional translation and... PowerlingEditingPowerling existe depuis plus de 30 ans. L'agence permet la traduction de plus de 75 langues dans... Freelance : Devis de prestataires. Outsource Freelance Work - FreelanceSwitch. Envato Home / Directory Find a Freelancer Popular Tags.
Freelancer.com | Online Jobs | Freelance Employment | Outsourcing Services | Programmers | Web Design | Freelancers. Guru.com – Find Freelancers for Hire. Get Your Project Done. Elance | Outsource to freelance professionals, experts, and consultants - Get work done on Elance. Outsource to Freelancers, IT Companies, Programmers, Web Designers from India, Russia, USA, and more.
---