Chiffres
Tirage photo en ligne : un marché en plein essor. Rentrée 2006 : le tirage photo en ligne sous de bons auspicesLe marché du tirage des photos numériques sur Internet n'est plus anecdotique.
Dopé par la croissance du nombre d'appareils numériques et les accès haut débit, le Web représente désoramais 15 % des tirages numériques. Les acteurs traditionnels à la poursuite des pure-playersA l'exception de Photo Service, décliné dès 1999 sur le Web, les premières initiatives ont été lancées par des pure-players. Les acteurs traditionnels tentent désormais de rattraper leur retard. Connaître les loyers et analyser les marchés sur les espaces urbains et ruraux. Leader de l'information sur le marché de l'Art - Cote des artistes - Résultats aux enchères. Confronted with the crisis, the results achieved on the sale of the last photographs in the Jammes collection on 15 November at Christie's were more measured than alarming.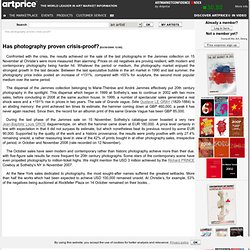 Prices on old negatives are proving resilient, with modern and contemporary photography being harder hit. Whatever the period or medium, the photography market enjoyed the strongest growth in the last decade. Between the last speculative bubble in the art market in 1990 and last summer, the photography price index posted an increase of +131%, compared with +55% for sculpture, the second most popular medium over the same period.
The dispersal of the Jammes collection belonging to Marie-Thérèse and André Jammes effectively put 20th century photography in the spotlight. This dispersal which began in 1999 at Sotheby's, was to continue in 2002 with two more sales, before concluding in 2008 at the same auction house. Market'n figures : Les chiffres-clés de tous les marchés dans le monde. How to reduce shopping cart abandonment | Internet Marketing News and Blog | E-consultancy.com. Mobile accounted for 28% of US PPC impressions in Q1 2014: report It's no great secret that mobile search is becoming increasingly popular and that it will soon become more common than desktop search.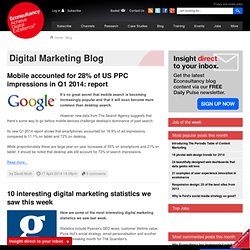 However new data from The Search Agency suggests that there's some way to go before mobile devices challenge desktop's dominance of paid search. Its new Q1 2014 report shows that smartphones accounted for 16.9% of ad impressions, compared to 11.1% on tablet and 72% on desktop. Forrester : Les consommateurs français de plus en plus influencés par Internet - Actualités Internet. Si les consommateurs français surfent en moyenne moins que les autres acheteurs européens (55% contre 61%), leur comportement sur Internet n'en est pas moins sophistiqué.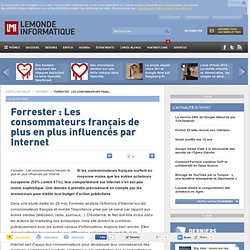 Une donnée à prendre précisément en compte par les annonceurs pour établir leur budget d'action publicitaire. Dans une étude datée du 29 mai, Forrester analyse l'influence d'Internet sur les consommateurs français et montre l'importance prise par ce canal par rapport aux autres médias (télévision, radio, journaux...). Comment les Français consomment les nouvelles technologies - ZDNet.fr. Image 1 sur 7 Le budget par foyer consacré aux nouvelles technologiesLe budget consacré par un foyer français moyen (composé de 2,4 personnes) aux nouvelles technologies est de 113 euros par mois.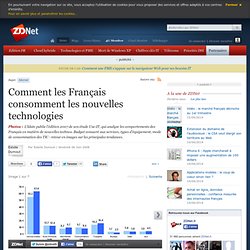 Ce montant couvre les dépenses en abonnement mobile, fixe, internet, télévision payante, loisirs, mais pas les achats de matériels, précise Sophie Pernet-Lubrano, directrice d'étude à l'Idate (Institut de l'audiovisuel et des télécoms en Europe). L'institut prévoit une évolution faible de ce budget, qui devrait atteindre 122 euros par mois en 2011 (hors inflation), soit une progression de 1,8 % par an. « Les services mobiles sont les poids lourds dans le budget, puisqu'ils représentent quasiment la moitié des sommes totales dépensées », affirme-t-elle.
C'est d'ailleurs le poste qui est appelé le plus à progresser, avec l'équipement à venir des plus jeunes et des personnes âgées, ainsi que le développement des offres de données. Observatoires. IREP. Union Française du Marketing Direct. On Off Mobile. Conférence Le Mobile 2.0 : tendances importantes et chiffres clefs : Carnet Web de Cedric Giorgi. Shhhh... don't tell CoverGirl!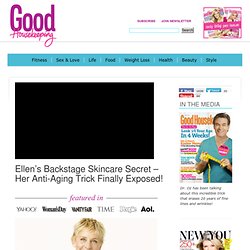 At 55, Ellen DeGeneres is looking better than ever. She looks even more radiant and youthful than she did when she was years younger! Many have tried to discover her secret: is it botox, face lifts, or just good lighting? The truth is much simpler (and cheaper!) Press Releases. Press ReleaseApr. 4, 2014 | Share comScore's Latest White Paper 2014 U.S.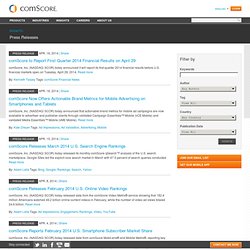 Digital Future in Focus Available for Download.
---