Genealogy
SERVEUR DE LA M.R.S.H. - CAEN
Objectifs du Programme de Recherche sur l'Émigration des Français En Nouvelle-France Remarque : Les pages de ce site ne sont plus alimentées depuis 2006, date de la fin du Programme de Recherche sur l'Émigration?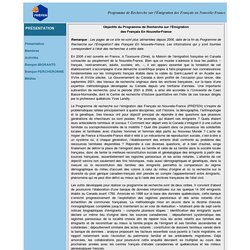 Interpretome
AllCensusRecords.com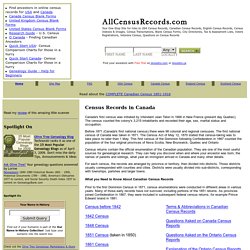 Census Records in Canada Canada's first census was initiated by Intendant Jean Talon in 1666 in New France (present day Quebec). The census counted the colony's 3,215 inhabitants and recorded their age, sex, marital status and occupation.
Dictionnaire Tanguay
Genealogie Quebec Info
Mundia
Mes Aieux
23andMe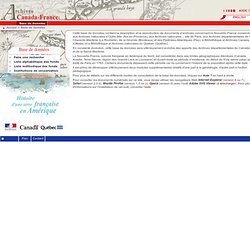 Cette base de données contient la description et la reproduction de documents d'archives concernant la Nouvelle-France conservés aux Archives nationales d'Outre-Mer (Aix-en-Provence), aux Archives nationales – site de Paris, aux Archives départementales de la Charente-Maritime (La Rochelle), de la Gironde (Bordeaux) et des Pyrénées-Atlantiques (Pau), à Bibliothèque et Archives Canada (Ottawa) et à Bibliothèque et Archives nationales du Québec (Québec). En constante évolution, cette base de données sera ultérieurement enrichie des apports des Archives départementales du Calvados et de la Seine-Maritime. La Nouvelle-France, colonie française en Amérique du Nord, est considérée dans ses limites géographiques étendues (Canada, Acadie, Terre-Neuve, région des Grands Lacs et Louisiane) et durant toute sa période d'existence, du début du XVIe siècle jusqu'au traité de Paris en 1763.