MIGZ FEST
Грандиозная экспериментальная программа Ночи музеев в Московском музее современного искусства (ММОМА) на Гоголевском бульваре, 10 построена вокруг экспозиции выставки великого испанского модерниста Хуана Миро. Куратором аудиовизуальной программы выступает творческая команда фестиваля MIGZ. Основная часть программы развернется во дворе площадки музея на Гоголевском 10, через который посетители будут проходить на выставку Миро.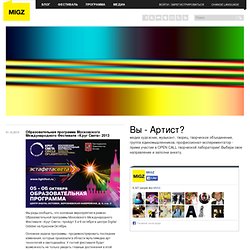 MIGZ
From data visualization to mapping applications, art to architecture, product design to fabrication, computer-generated forms have managed to permeate every aspect of our lives. The new book FORM+CODE In Design, Art and Architecture ($25, Princeton Architectural Press) shows how software and coding have ventured far beyond our computer screens, finding their way into galleries, furniture, and even buildings. Written by Casey Reas, Chandler McWilliams, and LUST, FORM+CODE features 250 works from the past 60 years that showcase a range of artificial worlds both physical and virtual, in applications ranging from manufacturing to entertainment. Throughout, you can see the delicate balance that artists, designers and programmers are striking between science, math and art.
16 Astounding Experiments in Data-Driven Art [Slideshow] | Co.Design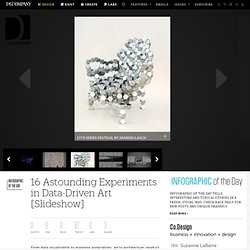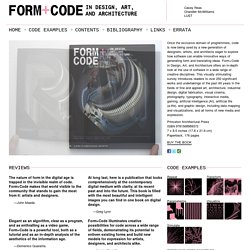 Once the exclusive domain of programmers, code is now being used by a new generation of designers, artists, and architects eager to explore how software can enable innovative ways of generating form and translating ideas. Form+Code in Design, Art, and Architecture offers an in-depth look at the use of software in a wide range of creative disciplines. This visually stimulating survey introduces readers to over 250 significant works and undertakings of the past 60 years in the fields of fine and applied art, architecture, industrial design, digital fabrication, visual cinema, photography, typography, interactive media, gaming, artificial intelligence (AI), artificial life (a-life), and graphic design, including data mapping and visualizations, and all forms of new media and expression.
FORM+CODE In Design, Art, and Architecture by Casey Reas, Chandler McWilliams, and LUST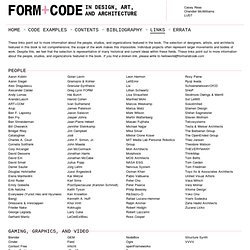 These links point out to more information about the people, studios, and organizations featured in the book. The selection of designers, artists, and architects featured in this book is not comprehensive; the scope of the work makes this impossible. Individual projects often represent larger movements and bodies of work.
Sign up here! This summer Tank Design visited a design conference in Paris where Dvein, three young men from Barcelona, impressed them with their motion workers.Dvein is held in high regards across the world, tells Jens K Styve at Tank in Tromsø. – Naturally they are most know in the design world, but we feel that motion graphics should be at interest for more then just us who work with design for a living. This is why Tank and Grafill invites everyone to come and listen to the lectures. The doors are open as long as there are free seats left at Verdensteatret. It's free and you should sign up already now here! Oh Yeah Studio is a duo consisting of Christina and Hans Christian.
Design vs Music | Insomniafestival.no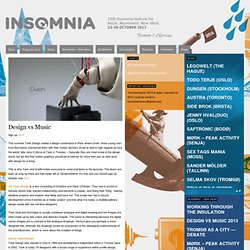 10th PICTOPLASMA BERLIN CONFERENCE & FESTIVAL Coming April 30 - May 4, the Pictoplasma Festival and Conference on Contemporary Character Design and Art celebrates its 10 year anniversary, with a specially immersive program of more than 20 awe-inducing artist presentations and back-to-back conference lectures, 100+ freshly hatched animations illuminating the big screen, endless exhibition fun, a special portrait gallery group-show, immeasurable inspiration and loads of confetti. Join the festivities and meet the avantgard of today's image creation, mingle with like-minded spirits and dive head-on into an insightful and inspiring week full of exhibitions, creativity, knowledge, networking, and – of course – a big birthday party!
Media Art Platform