MIGZ FEST
MIGZ
From data visualization to mapping applications, art to architecture, product design to fabrication, computer-generated forms have managed to permeate every aspect of our lives.
16 Astounding Experiments in Data-Driven Art [Slideshow] | Co.Design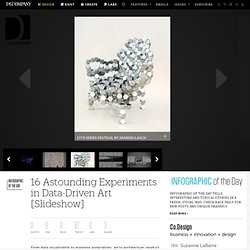 FORM+CODE In Design, Art, and Architecture by Casey Reas, Chandler McWilliams, and LUST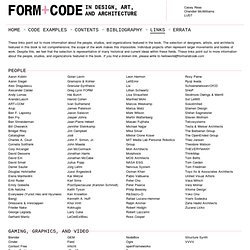 These links point out to more information about the people, studios, and organizations featured in the book. The selection of designers, artists, and architects featured in this book is not comprehensive; the scope of the work makes this impossible. Individual projects often represent larger movements and bodies of work.
Sign up here! This summer Tank Design visited a design conference in Paris where Dvein, three young men from Barcelona, impressed them with their motion workers.Dvein is held in high regards across the world, tells Jens K Styve at Tank in Tromsø. – Naturally they are most know in the design world, but we feel that motion graphics should be at interest for more then just us who work with design for a living.
Design vs Music | Insomniafestival.no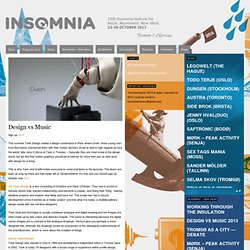 Media Art Platform
Tomas Saraceno