Blogs
Informed Consent, A Memoir of Hope
Charlie Sheen has a famous father, Adonis in his family tree, a lot of money, goddesses, tiger's blood and a mercury surfboard. I just have my passion for fighting congenital heart disease, a sense of humor, and a good book. Charlie Sheen had a million twitter followers in about 15 minutes; I just need 500. That's my goal. So, even if you hate Twitter, you can sign up and only follow me! Try it . . .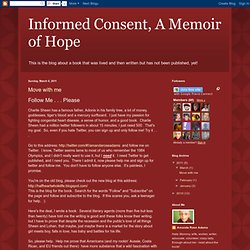 Pacing The Panic Room
Avaliable Now. More articles, more emails, more everything. I'll Go Home Then; It's Warm and Has Chairs contains all new, never before published material by David Thorne, the author of 27bslash6.com and the New York Times best selling book, The Internet is a Playground. Order your copy today... Very Disappointed Good writers do not need to use foul language several times in the first few pages.
Go away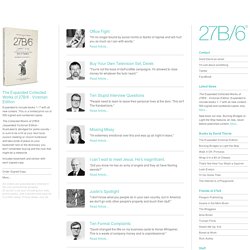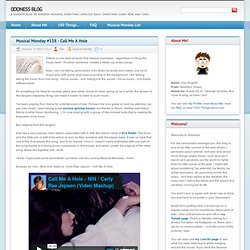 0ddness Bl0g
You may have noticed that things have been rather quiet on the Chez 0ddness front of late. And you may think life is boring and silent. However, if you've read my tired ramblings over the years, you will have come to realise that a quiet Online Dan usually means the opposite in Real World Dan. And, more is the point, I don't even know where to start, what I can or can't talk about, or if I should warn you, dear reader, that if you don't like me moaning about everything, you may kindly bugger off now. This last month has had hospital trips, sickness, illness, death, depression, and hard decisions, all rolled up onto five or six weeks of what feels like a constant uphill battle. To start with, you may recall Kellie having many many medical shenanigans going on in the past.
PostSecret
Raindogblue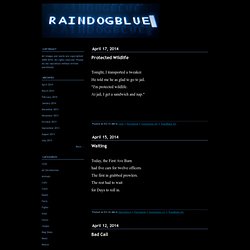 I caught a suspicious call on the 32nd isde of Kal's Park. A Subaru was parked with a dor open and the dome light on. No one was around it. Stolens have been dumped on the street.
Notes from a hospital bed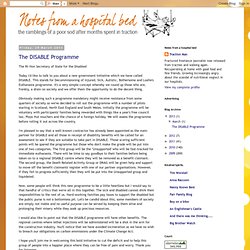 What is it about officialdom that can't bear criticism or even the merest hint of publicity? Take Argyll and Bute Council, in Scotland. This bastion of bureaucracy has ordered nine-year-old Martha Payne to stop blogging about the school dinners she eats at her school in Lochgilphead, Argyll. The mighty council appears to be afraid that a little nine-year-old girl might cause it a few problems. Martha runs a blog called Never Seconds where each day she takes a snap of her school dinner, writes a bit about it and reflects on her day.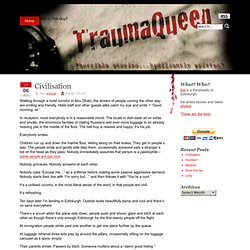 Terrible nights sleep. Hopefully I'd be tired after the op. All advice is that the best thing to do is go to sleep afterwards as apparently it helps the cornea heal. Sat in the waiting room of the laser clinic, the sun bright and cold outside, four others sitting around and waiting to be seen.
Trauma Queen
dooce®
Nothing To Do With Arbroath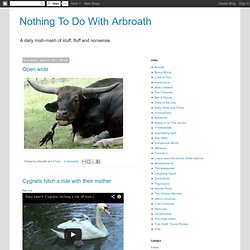 A nine-month-old boy was arrested by Lahore police for the alleged attempted murder of a police officer and was even presented before a session judge's court on Thursday. The 'accused' was granted an interim bail after he appeared in Judge Rafaqat Ali's court with his grandfather, Muhammad Yaseen. However, the infant started crying in the court when his grandfather held his thumb to dip it in ink and put its print on the bail bonds – since the tot could not sign it himself. According to the First Information Report (FIR), the baby, along with his uncles and grandfather, attacked the police officers, bailiff team and some Sui gas employees with wooden rods and pelted them with stones. While the infant was being formally charged during Thursday's hearing, he was busy drinking milk from his bottle.