Workouts
Tone It Up! - Recipes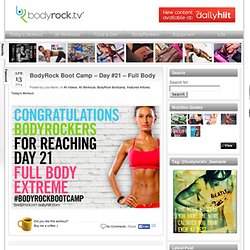 Legs And Butt Madness Hi BodyRockers, As you can tell from the formatting of this post we are having some issues with the site. Keep Reading » Pretty Bad Ass Workout Workout Break Down Set your interval timer to 24 rounds 30 seconds work 10 seconds break! 1.
Carrie's Leg Workout! - Features - Ahlan! Live
When country singer Carrie Underwood took to the stage for the CMA Music Festival in 2010, in a pair of teeny tiny Daisy Dukes, she immediately became the talking point of the evening. But it wasn't her stonking voice that was causing the buzz in Nashville – it was her amazingly sculpted pins. Drawing envious gasps from the star-studded audience, which included Nicole Kidman and Taylor Swift, everyone was bursting to know how the former American Idol winner – who dropped two dress sizes after first appearing on the show in 2005 – got a set of pins to rival a supermodel. Ahlan!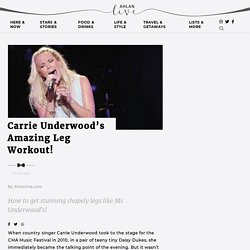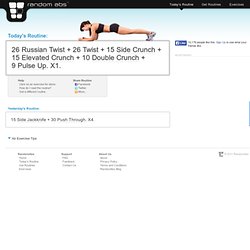 Ab Exercise Tips Be sure to breathe normally. You should NEVER hold your breath while doing ab exercises. Do not exercise your abs on consecutive days. Allow yourself a day of rest. Resting your muscles (even abs) is equally as importantant as working them.