SM
25 NYC Start-ups With Future Potential
77865_700b.jpg (700×2496)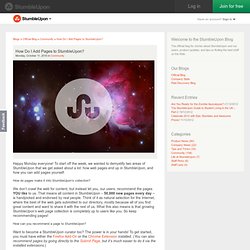 How Do I Add Pages to StumbleUpon?
Happy Monday everyone! To start off the week, we wanted to demystify two areas of StumbleUpon that we get asked about a lot: how web pages end up in StumbleUpon, and how you can add pages yourself. How do pages make it into StumbleUpon's collection? We don't crawl the web for content, but instead let you, our users, recommend the pages to us. That means all content in StumbleUpon – – is handpicked and endorsed by real people. Think of it as natural selection for the Internet, where the best of the web gets submitted to our directory, mostly because all of you find great content and want to share it with the rest of us.
This post was written by Liz Frisch, our Trade Show Coordinator. Here at Demandforce, we exhibit at over 300 trade shows and industry events each year. Last month we packed our warmest clothes and flew back east to the Greater New York Dental Meeting. Trade shows tend to be filled to the brim with industry experts and excited attendees, and Greater New York was no exception. We joined 8,000 exhibitors at the Javits Convention Center where we had the chance to showcase our awesome product to over 50,000 dental professionals from across the country.