SM
25 NYC Start-ups With Future Potential. How to easily delete your online accounts | accountkiller.com. 77865_700b.jpg (700×2496) How Do I Add Pages to StumbleUpon? Happy Monday everyone!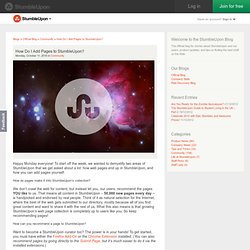 To start off the week, we wanted to demystify two areas of StumbleUpon that we get asked about a lot: how web pages end up in StumbleUpon, and how you can add pages yourself. How do pages make it into StumbleUpon's collection? We don't crawl the web for content, but instead let you, our users, recommend the pages YOU like to us. That means all content in StumbleUpon – 50,000 new pages every day – is handpicked and endorsed by real people.
Think of it as natural selection for the Internet, where the best of the web gets submitted to our directory, mostly because all of you find great content and want to share it with the rest of us. All text symbols for Facebook ϡ (list) - facebook-symbols. 7-secrets-of-social-media-conversion-infographic.png (930×1948) Social Media Demographics: Who's Using Which Sites? This post was written by Jenny Urbano, our Social Media Manager.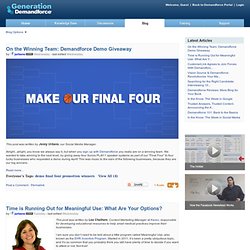 Here at Demandforce, we love seeing and celebrating your ideas! And more than that, we love to hear from YOU. We want to bridge the gap between us and you, so that's why we're offering a once in a lifetime opportunity to win a trip to San Francisco, sightsee in this amazing city, visit Demandforce headquarters and share your ideas with us! 6 winners, and a guest of their choice will be flown out to San Francisco, California on March 12-14th, 2014, where they will stay in Union Square, spend a day at Demandforce, have dinner with the team, and explore the lovely City by the Bay!
---