Lists
Detox Foods | Detox smoothies. Toxins-free for life Looking to increase your energy levels, to lose weight, get clearer skin, prevent premature ageing and to help preventing diseases?
Then look no further! This 5 days step-by-step detox will help you implement long-lasting healthy habits that yields results. Price: $47. The best detox foods to look great. Having a diet rich in detox foods will naturally help your health.
But some of those foods are especially good to make you look great. Eating more of the detos foods below will not only improve your look but also support your body to detox naturally and flush out environmental toxins as well as metabolic waste. Losing weight Artichoke: One of the best detox foods for your liver, artichokes are also low in calories and contains compounds that can help lower your cholesterol levels. Detox foods | Best and worst foods for cancer. Cancer cases are multiplying each year, and the media is only starting to talk about the correlation between lifestyle and cancer risks.
Everyone knows that smoking increases risks of developing lung cancer, among others but few people know that some of the foods they eat regularly could be as life threatening as smoking is. On the other hand, some foods really help to protect us against carcinogens. The 29 Healthiest Foods on the Planet | Belly Bytes. Fruits 01.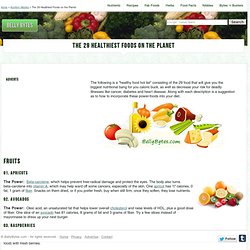 Apricots The Power: Beta-carotene, which helps prevent free-radical damage and protect the eyes. The body also turns beta-carotene into vitamin A, which may help ward off some cancers, especially of the skin. One apricot has 17 calories, 0 fat, 1 gram of fiber. 6 Foods To Eat If You're Skipping Meat.
---