Youtube
'YouTube Instant' creator, 19, finds instant fame
YouTube Instant - Real-time YouTube video surfing.
"Basshunter" on YouTube Instant!
"Katy Perry" on YouTube Instant!
The secret power of YouTube
How Web video powers global innovation YouTube doesn't get enough credit for its productive side, says Chris Anderson Online video on YouTube, other sites drives "crowd-accelerated innovation," he says Anderson: Global sharing of video prompts outstanding performances in variety of fields "Tomorrow's best teachers will be global stars reaching literally millions of kids," he says Editor's note: Chris Anderson is the curator of TED , a nonprofit organization devoted to "ideas worth spreading."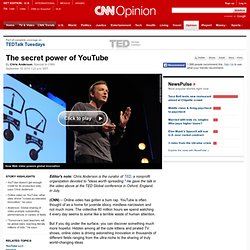 Formerly known as plain old YouTube Downloader, the recently renamed YTD Video Downloader updates to version 4.0 with a promise of 2x faster downloads and 2x faster video conversions, and perhaps more usefully, the ability to resume downloads after the temporary loss of an Internet connection. As usual, the installer includes a Spigot-based YTD Video Toolbar and offers to change your default search engine to Yahoo and add 5-6 shopping extensions to Google Chrome. Clicking the "Decline" button during the lone advertising screen in the installer lets users easily opt-out of all offers. Downloading worked very well for popular video sites like YouTube, Vimeo, and Blip.TV. As in previous reviews, YTD Video Downloader quickly saved the default MP4 file to the directory of my choice, which is easily selected or created from the main screen. I tried various CNET and "creative commons"-tagged videos on YouTube and had excellent download speeds.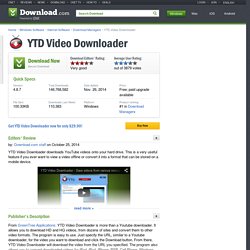 YouTube Downloader - Free software downloads and reviews