Littlebigplanet
LBPCentral - LBPCentral Home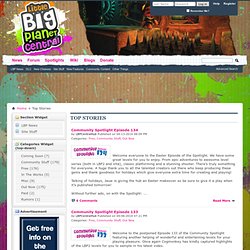 Welcome everyone to the latest Episode of the Spotlight featuring levels posted in the Level Showcases and Recommendations forums in the past fortnight. A big thank you to everyone who rallied round and posted recommendations for us to try. We had great fun replaying some old favourites and discovering some new ones too. Great job and keep them coming xD A couple of bits of good news to announce. First, we are very happy to welcome yugnar to the Crew.
Saturday, July 17, 2010 Marvel Costume Kit 1 I have added the Marvel Costume Kit 1 to the skin and costume catalogues. The Marvel Level Kit DLC will be up shortly. | Skin Catalogue | Costume Catalogue |
The ULTIMATE way to search LittleBigPlanet!
LittleBigNetwork Forum
Forums - The LittleBigPlanet Wiki - LittleBigPlanet characters,
Wowsers, 2013 is nearly over? What a crazy, busy and fun year we've had, eh? We're all super tired, and in need of a good break, which is lucky because IT'S CHRISTMAS! Thank you all for your support this year, as always.
Media Molecule - We make games
Little Big Land - Little Big Planet News, Levels, Forum and Work
LittleBigPlanet™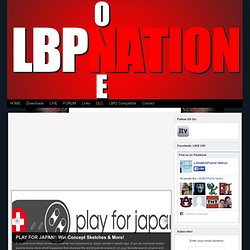 LittleBIGPlanetNATION.com - Your LittleBIGPlanet Community! - LI
After almost three weeks on the market, the hottest game out of the PlayStation camp so far is already getting a pretty good discount. ToysRUs is running a promo on ALL games priced regularly at $59.99 to the more than generous low price of $47.99. Procrastinating on a low price that you would hop on in a few months? Now is the time to take advantage on this as this Super Deal will last all week till February 12, 2011.
Level Creator Guide - The LittleBigPlanet Wiki - LittleBigPlanet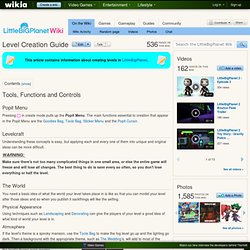 Pressing in create mode pulls up the Popit Menu. The main functions essential to creation that appear in the Popit Menu are the Goodies Bag, Tools Bag, Sticker Menu and the Popit Cursor. Levelcraft Understanding these concepts is easy, but applying each and every one of them into unique and original ideas can be more difficult. Make sure there's not too many complicated things in one small area, or else the entire game will freeze and will lose all changes.
LittleBigPlanet™ (PS3) - PlayStation.com Forums
LittleBIGReviewers