Music 2
Bob Dylan's "Highway 61 Revisited": Mike Bloomfield vs. Johnny Winter. "Lord, that 61 Highway, it's the longest road I know," sang bluesman Mississippi Fred McDowell.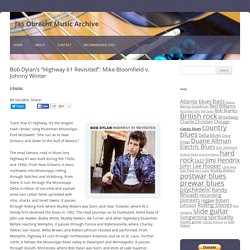 "She run on to New Orleans, and down to the Gulf of Mexico." The most famous road in blues lore, Highway 61 was built during the 1920s and 1930s. From New Orleans, it veers northwest into Mississippi, rolling through Natchez and Vicksburg. From there, it cuts through the Mississippi Delta, a ribbon of concrete and asphalt amid vast cotton fields sprinkled with silos, shacks, and small towns. "Tatlı ses" 2012 анонс.mpg. Who Got It Right: 'God Save the Queen' I'm Proud Of All My Songs, Even The Ones I Stole From People I Heard At Open-Mic Nights.
For more than 50 years now, I've been a professional songwriter.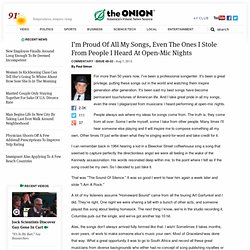 It's been a great privilege, putting these songs out in the world and watching them inspire generation after generation. It's been said my best songs have become permanent touchstones of American life. And I take great pride in all my songs, even the ones I plagiarized from musicians I heard performing at open-mic nights. People always ask where my ideas for songs come from. Chuck Berry - Johnny B. Goode (Live 1958) Chuck Berry - Maybellene 1955. Chuck Berry - No Particular Place To Go. Evolution of music by public choice. Author Affiliations Edited* by Richard E.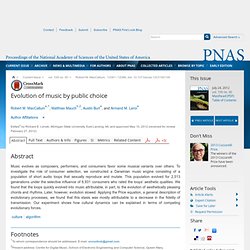 Lenski, Michigan State University, East Lansing, MI, and approved May 10, 2012 (received for review February 27, 2012) Emmylou Harris : Driving Wheel / You Never Can Tell. Emmylou Harris : Heaven Only Knows. SUN RA - DANCE OF THE COSMO ALIENS. Sun Ra - Stardust For Tomorrow. Ernest Tubb - I'm Walking the Floor Over You. Kitty Wells - It Wasn't God Who Made Honky Tonk Angels. Sarah Vaughan - Fly Me To The Moon - 1969. Sarah Vaughan "Misty" Live 1964. The Weeklings. I'M GOING TO HELL.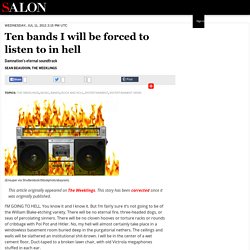 You know it and I know it. But I'm fairly sure it's not going to be of the William Blake-etching variety. The Ronettes - Walking In The Rain - 1964. The walker brothers - no regrets - stereo. Walker brothers make it easy on yourself. Walker Brothers - The sun ain't gonna shine anymore 1965. [FULL VERSION] The Walker Brothers - The Sun Ain't Gonna Shine Anymore [HQ Music Video] 1966. Emmylou Harris, Mary Chapin Capenter & Sheryl Crow Flesh And Blood. Emmylou Harris & The Band - The last Waltz (evangeline).mpg. Linda Ronstadt & Johnny Cash I Will Never Mary Live The Johnny Cash TV Show 1969. Linda Ronstadt - I Can't Help It If I'm Still In Love With You. Imogen Heap & Jeff Beck - Blanket. Imogen Heap and Jeff Beck - Rollin and Tumblin live at Ronnie Scott's 2007 from BBC 4 TV special.
Harmony Explained: Progress Towards A Scientific Theory of Music. The Major Scale, The Standard Chord Dictionary, and The Difference of Feeling Between The Major and Minor Triads Explained from the First Principles of Physics and Computation; The Theory of Helmholtz Shown To Be Incomplete and The Theory of Terhardt and Some Others Considered Daniel Shawcross Wilkerson Begun 23 September 2006; this version 19 February 2012.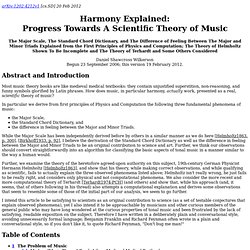 Abstract and Introduction Most music theory books are like medieval medical textbooks: they contain unjustified superstition, non-reasoning, and funny symbols glorified by Latin phrases. How does music, in particular harmony, actually work, presented as a real, scientific theory of music? In particular we derive from first principles of Physics and Computation the following three fundamental phenomena of music: Chord Calculator. Pop Music Getting Sadder and Sadder - New research finds Top 40 hits increasingly convey a complex mix of feelings, which may be good for art but bad for cheer.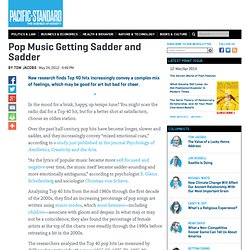 In the mood for a brisk, happy, up-tempo tune? You might scan the radio dial for a Top 40 hit, but for a better shot at satisfaction, choose an oldies station. The Descent Of Music. Musicians, take note: An artistic mind isn't required to create appealing music.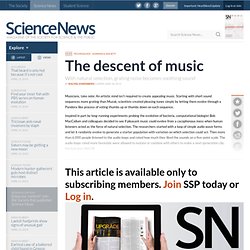 Starting with short sound sequences more grating than Muzak, scientists created pleasing tunes simply by letting them evolve through a Pandora-like process of voting thumbs up or thumbs down on each sequence. Inspired in part by long-running experiments probing the evolution of bacteria, computational biologist Bob MacCallum and colleagues decided to see if pleasant music could evolve from a cacophonous mess when human listeners acted as the force of natural selection. "Brass in Pocket" - **The Pretenders** Pretenders - Night in My Veins. Teor&a - Music Theory Web. Outline of basic music theory - www.oscarvandillen.com. Professional music theory: an outline of basic music theory.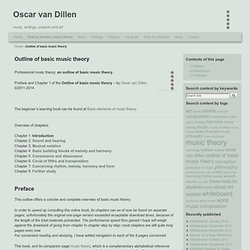 Preface and Chapter 1 of the Outline of basic music theory – by Oscar van Dillen ©2011-2014 The beginner's learning book can be found at Basic elements of music theory. Overview of chapters: Chapter 1: Introduction Chapter 2: Sound and hearing Chapter 3: Musical notation Chapter 4: Basic building blocks of melody and harmony Chapter 5: Consonance and dissonance Chapter 6: Circle of fifths and transposition Chapter 7: Concerning rhythm, melody, harmony and form Chapter 8: Further study. WALL OF VOODOO - Ring Of Fire. Kinky - Mexican Radio. The Howlin' Wolf Story8.avi. The Howlin' Wolf Story7.avi. The Howlin' Wolf Story6.avi.
The Howlin' Wolf Story5.avi. The Howlin' Wolf Story4.avi. The Howlin' Wolf Story3.avi. The Howlin' Wolf Story2.avi. The Howlin' Wolf Story1.avi. 'Don Giovanni,' Los Angeles Philharmonic and Gustavo Dudamel. There is evidence for this both big and small, statistical and anecdotal.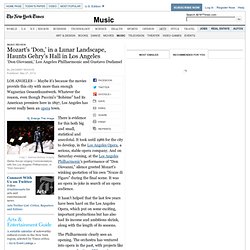 It took until 1986 for the city to develop, in the Los Angeles Opera, a serious, stable opera company. And on Saturday evening, at the Los Angeles Philharmonic's performance of "Don Giovanni," silence greeted Mozart's winking quotation of his own "Nozze di Figaro" during the final scene. It was an opera in-joke in search of an opera audience. Hitler's Very Own Hot Jazz Band | Past Imperfect. Les Paul - Sleepwalk. Over Under Sideways Down - Yardbirds (Page) Summertime Blues- Eddie Cochran.
---