Media Messaging
Pawlenty Suggests That Soledad O'Brien Doesn't Understand English
Shepard Smith's Personal Reporting Style - The Colbert Report - 2012-23-07
Rep. Dennis Kucinich grills Donald Rumsfeld
David Brooks: Romney Has a Secret Health Care Plan No One Knows About, But It's a Good Plan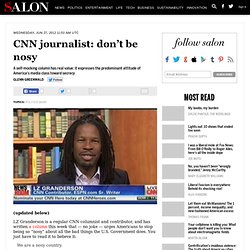 LZ Granderson is a regular CNN columnist and contributor, and has written a column this week that — no joke — urges Americans to stop being so "nosy" about all the bad things the U.S.
CNN journalist: don't be nosy
Jesse Ventura Slams the Media for Creating News Instead of Reporting on It
WASHINGTON -- The White House has some advice for reporters writing about President Barack Obama's recent comment on the health of the private sector: "Do your jobs." Obama has come under fire from Republicans for saying on Friday that "the private sector is doing fine" during a press conference on the economy.
White House To Press: 'Do Your Jobs' When Reporting On Obama's Private Sector Remark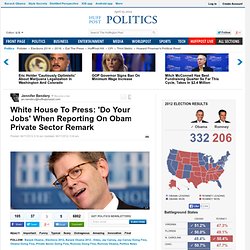 Dylan Ratigan To Leave MSNBC
Media, drones and rank propaganda
(updated below – Update II – Update III) Several items today relate to the issue of gross U.S. media propaganda and Obama's national security policies: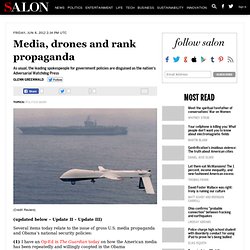 NYT: Drone Strikes 'Combat Militancy' by Increasing Militants
In today's New York Times article (6/6/12) about the apparent drone killing of Al-Qaeda "deputy leader" Abu Yahya al-Libi, Declan Walsh and Eric Schmitt write: If his death is borne out this time, it would be a milestone in a covert eight-year airstrike campaign that has infuriated Pakistani officials but that has remained one of the United States' most effective tools in combating militancy.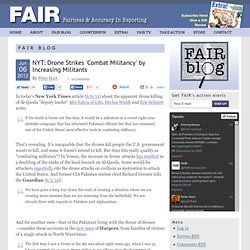 NYT: How Can We Be No. 1 if Pentagon Budget Is Cut by 1/12th?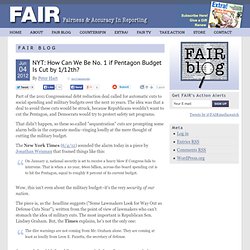 Part of the 2011 Congressional debt reduction deal called for automatic cuts to social spending and military budgets over the next 10 years. The idea was that a deal to avoid these cuts would be struck, because Republicans wouldn't want to cut the Pentagon, and Democrats would try to protect safety net programs. That didn't happen, so these so-called "sequestration" cuts are prompting some alarm bells in the corporate media–ringing loudly at the mere thought of cutting the military budget.
Ed Klein, an author whose latest book, The Amateur: Obama In The White House, said to Fox's Brian Kilmeade that he believes Hillary Clinton will seriously consider running for president in 2016.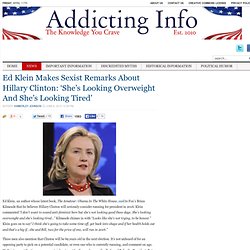 Ed Klein Makes Sexist Remarks About Hillary Clinton: 'She's Looking Overweight And She's Looking Tired'
Drone Kill List: Not News?
Deliberate media propaganda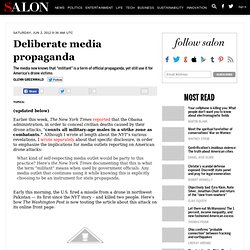 (updated below)
It is a very good thing that the Nation's Chris Hayes has a weekend show on MSNBC. The panelists are smart and the lively conversations dig deeper than virtually anything else on cable news.
On Chris Hayes and Heroism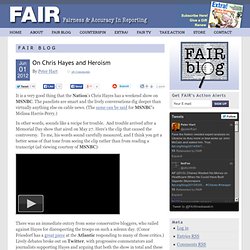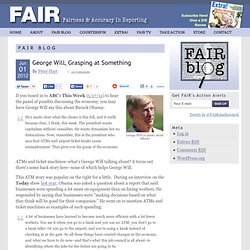 George Will, Grasping at Something
George Will (cc photo: Keith Allison)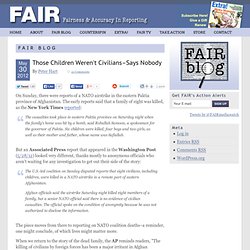 On Sunday, there were reports of a NATO airstrike in the eastern Paktia province of Afghanistan.
Those Children Weren't Civilians–Says Nobody
Factor and Commander - The Daily Show with Jon Stewart - 09/29/04
Cyberterror Fearmongering Eroding Privacy Online
(UPDATE: See the video of Matthews' comments here, along with some discussion of what it all means.)
Chris Matthews: Cable News Would Have Stopped Iraq War Lies
Reporting From Outside Party Lines
MEDIA ROOTS — A pair of internet archivists who call themselves 'Neuro Linguistic Programming' have uploaded Part one out of forty US corporate media print publications from the immediate days and weeks following 9/11. The duo plans to post multiple full issues of Time and Newsweek as well as other timely magazines that are filled with blatant fearmongering and propaganda about terrorism. Following 9/11, news media accelerated at an amazing rate, and most companies soon adopted internet versions of their paper or magazines.
Another March to War? | Matt Taibbi | Rolling Stone
Erin Burnett: Worst of the worst - Glenn Greenwald
(updated below – Update II [Sat.])
PBS's new weekly standard: Tucker Carlson; An unfiltered Media Matters for America analysis of the new PBS host
Carlson doctored Gore quotes; told lies about Wellstone memorial service Carlson on women: "[T]hey want to be spanked vigorously every once in a while." Carlson's Hillary Clinton fantasy: "Every time I see her I think I could, you know, help....
Tucker Carlson's downward spiral - Media Criticism
Hannity and Bozell Bewail Alleged Attacks On Ann Romney
Dick Morris: Media 'Ruined' Bush Because Iraq War Coverage Was Too Harsh
Social Security and Medicare: Six Myths Debunked
Colbert on Doocy: I'm Not Some Brown-Noser Toting For the GOP Establishment...Unlike Some People
Sunday Morning Bobblehead Thread
Attacks on RT and Assange reveal much about the critics
Julian Assange's 'The World Tomorrow': Hezbollah's Hassan Nasrallah
Racist Timeout - The Daily Show with Jon Stewart - 04/04
The Splice Channel - The Daily Show with Jon Stewart - 04/09
Making politicians look bad: 'A fireable offense'
Why? - CNN's Branded News Segments - The Daily Show with Jon Stewart - 04/10
Media Madness: Promoting Society's Worst, Ignoring Its Best
Freddy in Space: Vintage Video Of The Week : ABC News' 'VCR Horrors'!
State-dominated media and Iran
TBIJ
Fox's Shannon Bream Repeats Scalia's Falsehoods on 'Cornhusker Kickback'
Howard Kurtz Tries To Rehab Fox News
Back in Black - 24-Hour News - The Daily Show with Jon Stewart - 10/24/05
On Topic - Cable News - MSNBC - The Daily Show with Jon Stewart - 03/19
On Topic - Cable News - C-SPAN - The Daily Show with Jon Stewart - 03/19
On Topic - Cable News - The Rest of the World - The Daily Show with Jon Stewart - 03/19
Operation Mockingbird
www.xeper.org/maquino/nm/MindWar.pdf
From MindWar to FoxNews
Digital Resistance to Political and Cultural Manipulation and Indoctrination - StumbleUpon
14 Propaganda Techniques Fox &News& Uses to Brainwash Americans | Truthout - StumbleUpon
Matt Ortega: the man behind Mitt Romney memes - Mitt Romney
Hoodies don't kill - Trayvon Martin
Wanted (by NYT): One Woman to Represent All Feminists
Our One Percent Media
Bill Keller Remembers the Downing Street Memos (Sort Of)
NYT's Anonymous Drone Defenders
To Draw Reluctant Young Buyers, G.M. Turns to MTV
Too Smart to Fail by Thomas Frank | | Notebook | The Baffler
On Topic - Cable News - CNN - The Daily Show with Jon Stewart - 03/19
Sale Of BET To White Supremacist Group Results In No Changes To Programming | The Onion - America's Finest News Source | Onion News Network
Reporting From Outside Party Lines
Glenn Greenwald
Broken news
Subconscious War (Video)
Meet the Press Admits Its Irrelevance, Lack of Creativity with Go-To Guest John McCain
Domestic Propaganda and the News Media
The Blurring of News and Information