Intelligence
The US Record on Human Rights: More CIA Mind-Control Projects. CIA Project Bluebird In 1950, the CIA initiated Project Bluebird, later renamed Project Artichoke, whose stated purpose was to develop "the means to control individuals through special interrogation techniques", "way[s] to prevent the extraction of information from CIA agents", and "offensive uses of unconventional techniques, such as hypnosis and drugs".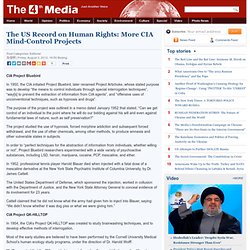 The purpose of the project was outlined in a memo dated January 1952 that stated, "Can we get control of an individual to the point where he will do our bidding against his will and even against fundamental laws of nature, such as self preservation?" The project studied the use of hypnosis, forced morphine addiction and subsequent forced withdrawal, and the use of other chemicals, among other methods, to produce amnesia and other vulnerable states in subjects. DARPA To Develop Technology To Analyze Social Media. Image via Wikipedia A contract proposal from the Defense Department's research arm DARPA revealed the Pentagon is looking to develop computer algorithms which would mine data from social media websites and use it to track and analyze the behavior of various criminal and terrorist groups ( h/t Mashable ).
In order to understand group dynamics and "forecast trends", the DOD hopes to understand how a group evolves, interacts, recruits, influences other groups and affect the opinions of individuals and communities. The Ignorance of 'Intelligence' Some years ago, I met a major in American intelligence, a member of the "Red Cell Unit."
As he explained it to me, his unit was actually charged with assessing other spy shops by offering other views, critiquing intelligence estimates and perhaps even evaluating security systems like the specialists who test airport systems by probing for their soft spots and vulnerabilities, and seeing if they can beat them. This soldier had been sent as one more gung-ho officer into the war in Iraq only to return, like many, if not disillusioned, aware that all was not working well. He was actually involved in guarding so called HVP's (High Value Prisoners) including Saddam Hussein himself, who he came to respect for his intelligence before his untimely demise with a rope around his neck. Mexican official: CIA 'manages' drug trade - Features. Juarez, Mexico - The US Central Intelligence Agency and other international security forces "don't fight drug traffickers", a spokesman for the Chihuahua state government in northern Mexico has told Al Jazeera, instead "they try to manage the drug trade".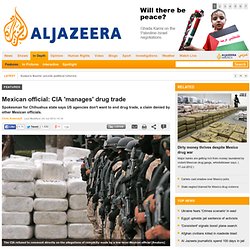 Allegations about official complicity in the drug business are nothing new when they come from activists, professors, campaigners or even former officials. However, an official spokesman for the authorities in one of Mexico's most violent states - one which directly borders Texas - going on the record with such accusations is unique. "It's like pest control companies, they only control," Guillermo Terrazas Villanueva, the Chihuahua spokesman, told Al Jazeera last month at his office in Juarez. "If you finish off the pests, you are out of a job. If they finish the drug business, they finish their jobs. " The Dark Allience - Gary Webb / SJMN Series. Rep.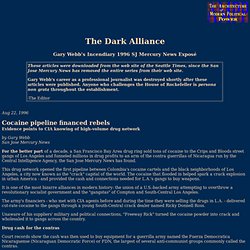 Maxine Waters, D-Calif., the chief congressional champion of a thorough investigation into the newspaper's findings, insisted yesterday that the Mercury News, while acknowledging problems with its series, has not retreated from findings that some drug money went to the contras. from Investigative journalist Gary Webb speaks to a packed house on the CIA's connection to drug trafficking, and the failure of the media to expose the truth. Project Azorian: The CIA's Declassified History of the Glomar Explorer. Posted - February 12, 2010 Edited by Matthew Aid with William Burr and Thomas Blanton For more information contact: 202/994-7000 Washington, D.C., February 12, 2010 - For the first time, the Central Intelligence Agency (CIA) has declassified substantive information on one of its most secret and sensitive schemes, "Project Azorian," the Agency codename for its ambitious plan to raise a sunken Soviet submarine from the floor of the Pacific Ocean in order to retrieve its secrets.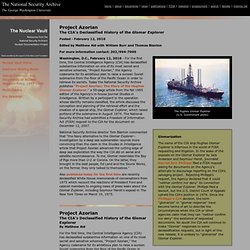 Today the National Security Archive publishes "Project Azorian: The Story of the Hughes Glomar Explorer," a 50-page article from the fall 1985 edition of the Agency's in-house journal Studies in Intelligence. Www.fas.org/sgp/crs/secrecy/RL30319.pdf. New NSA docs contradict 9/11 claims - 9/11. The Central Intelligence Agency 9/11 File: Hundreds of Secret Agency Documents on Osama Bin Laden Declassified. Washington, D.C., June 19, 2012 – The National Security Archive today is posting over 100 recently released CIA documents relating to September 11, Osama bin Laden, and U.S. counterterrorism operations.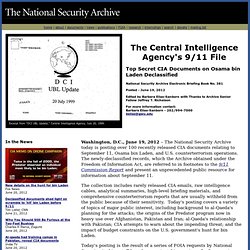 The newly-declassified records, which the Archive obtained under the Freedom of Information Act, are referred to in footnotes to the 9/11 Commission Report and present an unprecedented public resource for information about September 11. The collection includes rarely released CIA emails, raw intelligence cables, analytical summaries, high-level briefing materials, and comprehensive counterterrorism reports that are usually withheld from the public because of their sensitivity. Transparency Report. A CIA spook spills his secrets - CIA. Www.fas.org/irp/nsa/maybe_declass.pdf. A Nation of Spies and Snitches - By J.M. Berger. In the aftermath of the 9/11 attacks, one of the most stinging criticisms leveled at the CIA was that it had utterly failed to penetrate al Qaeda with a human source.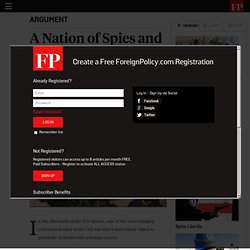 That worm turned this week when headlines erupted with the story of how a Saudi spy, working in conjunction with the CIA, penetrated al Qaeda in the Arabian Peninsula (AQAP), preventing an attack on a U.S. -bound airliner, providing critical intelligence to guide a drone strike against a sought-after AQAP commander, and delivering an intact bomb design for U.S. intelligence to dissect. It was, by any measure, a spectacular intelligence coup going to the heart of the al Qaeda branch believed to be most actively conspiring to kill Americans.
But as plaudits began to traverse one vector of the press and the blogosphere, a backlash emerged in another. Secret X-37B Robot Space Plane Mission a Success: USAF. The U.S.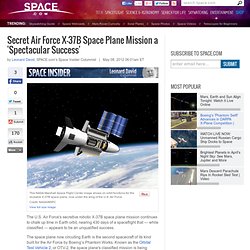 Air Force's secretive robotic X-37B space plane mission continues to chalk up time in Earth orbit, nearing 430 days of a spaceflight that — while classified — appears to be an unqualified success. The space plane now circuiting Earth is the second spacecraft of its kind built for the Air Force by Boeing's Phantom Works. Known as the Orbital Test Vehicle 2, or OTV-2, the space plane's classified mission is being carried out by the Air Force Rapid Capabilities Office.
The robotic X-37B space plane is a reusable spacecraft that resembles a miniature space shuttle. 2 More Secret Service Employees Resigning. Human Flesh Search Engines - COLUMNS. How would you like to see your face on a 20 foot LCD screen mounted on a truck, asking "have you seen this person?"
If you had been unwise enough to throw your hand in with rioters in Birmingham, England during the UK's outbreak of unrest in early August, you would stand a chance of having just that moment of infamy. Not content just to print faces of unknown offenders in the local paper, the West Midlands constabulary took things one technological step further and hired a van meant for digital advertising to flash pictures of its most wanted, captured on CCTV during the previous days' rioting. Granted, the van (and its giant screens) had been offered to the police by its owners, but the jump from posters and print amplifies the real-time effect.
Mobile screens that can travel a city shopping for witnesses are an interesting use of surveillance footage to track down unknown offenders. Www.fas.org/sgp/crs/homesec/RL34603.pdf. NBC: Prostitute's $50 fee for two agents triggered Secret Service scandal. U.S. Secret Service director Mark Sullivan has been briefing members of Congress about the allegations that the Secret Service and military personnel brought prostitutes back to their hotel in Colombia last week. NBC's Kristen Welker reports. By Michael Isikoff and Jim Miklaszewski, NBC News The Colombian prostitute who triggered the scandal that has rocked the Secret Service got angry with two agents who refused to pay her full price for servicing the two of them, leading to a financial dispute over between $40 and $60, according to a government source who has been briefed on the investigation.
Secret Service Inquiries Trace Women in Colombia. Joaquin Sarmiento for The New York Times Police officers in front of the Pleyclub in Cartagena, Colombia. American investigators seeking to get to the bottom of the reported late-night activities of a group of agents and military personnel assigned to President Obama's recent visit to Colombia have begun searching for as many as 21 women who are believed to include prostitutes and to have spent the night with the security officers, American security officials say. CIA's Secret Fear: High-Tech Border Checks Will Blow Spies' Cover | Danger Room. An iris scanner from Senex Technologies on display at the CeBIT trade show.
Photo: Fabian Bimmer/AP When Tom Cruise had to break into police headquarters in Minority Report, the futuristic crime thriller, he got past the iris scanners with ease: He just swapped out his eyeballs. The Battle for the Soul of the Republic. The National Security Agency (NSA) mega-data center, combined with the Central Intelligence Agency (CIA) special relationship with Google, and the federalization of local police using Department of Homeland Security (DHS) funds to pay for monitoring both the locations and the conversations of anyone they wish -- without a warrant --suggest that the government of the United States of America (USA)-from local to national-is no longer in friendly hands.
As a professional intelligence officer and a retired Marine Corps officer, I am deeply offended, personally threatened, and patriotically alarmed. Evil has triumphed across the United States of America. Secret Service supervisor in prostitute scandal. Updated 3:50 p.m. ET (CBS News) Members of the president's Secret Service detail, including a supervisor, are in what looks to be some pretty hot water. At least one United States Secret Service agent is alleged to have sought the services of a prostitute in Cartagena, Colombia, where President Obama is visiting for the Summit of the Americas.
CBS News has learned that one of the agents allegedly involved with the prostitute is a supervisor of the Counter Terror Assault Team (CAT). NROL-25 spy satellite launched by National Reconnaissance Office. American Universities Infected by Foreign Spies Detected by FBI. Www.fas.org/sgp/crs/misc/R42465.pdf. New U.S. Research Will Aim at Flood of Digital Data. Symantec Dissolves Alliance with Huawei of China. New surveillance camera can search 36 million faces for matches in one second. Is Your TV Watching You? Latest Models Raise Concerns. GAO Oversight of Intel Agencies in Dispute. Intelligence Agencies Are Told to Cooperate with GAO.
The NSA Is Building the Country's Biggest Spy Center (Watch What You Say) | Threat Level. Home Land Security - Ali G. ALI G "security" Ali G and FBI director interview. Human Demonology: The Betrayal of Sabu. In Service to FBI, Informant Publicly Advocates Theft, Conspiracy. » Bust Reveals Government Runs Hacking Groups Alex Jones. You Are Being Tracked Online: Here Are 5 Ways to Protect Your Privacy. Prisoner Abuse: Patterns from the Past. Psychologists and Torture. Government Increasingly Eyeing Dissent on Social Media. 'Anonymous' Crashes Interpol Website. Barack Obama Waives Rule Allowing Indefinite Military Detention Of Americans. HoverMast cam launches in 10 seconds. The NYPD spying controversy: a microcosm for the 9/11 era. WikiLeaks' new phase begins - WikiLeaks. DoD Issues New Information Security Regulation. Facebook Accused Of Reading Users' Text Messages. White House Uses Espionage Act to Pursue Leak Cases. Opt-Out Provision Would Halt Some, but Not All, Web Tracking.
"The Last North American Career Journalist" National Security Agency. Operation Paperclip. "A government 'op' that went wrong" The boy who cried Wolfowitz. Chicago Will Have Eyes In The Sky For G8 Summit. The Sniper's Nest At Super Bowl XLVI. The Launching of U.S. Cyber Command (CYBERCOM): Offensive Operations in Cyberspace. This Looks Like A Fortified Sniper's Nest At The Super Bowl.
NYPD spying program aimed at Muslims. Homeland Security Manual Lists Government Key Words For Monitoring Social Media, News. High spy: WikiLeaks accuses Swedish FM of spying for US. Scientists Probe Terrorist Talk On 'Dark Web' NYPD Muslim Spy Scandal Grows With Newly Revealed Plan to Target Shiite Mosques. Spook Banks. Gary Webb's Memorial Service. Blood, oil, and Gary Webb's death.
---