Gingrich's Big, Really, Really Big Ideas
(h/t Heather) This is the best part of the most entertaining primary season I remember. The Republicans were so nasty to each other, trying to find ways to climb on top of one another to stand above the muck. Newt Gingrich (before I suspect realized he had to out-crazy the others to win) has a surprisingly intellectual honest response to Paul Ryan's budget back in 2011 . "I don't think right-wing social engineering is any more desirable than left-wing social engineering," Gingrich said.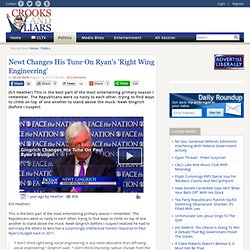 Newt Changes His Tune on Ryan's 'Right Wing Engineering'
Newt Gingrich Glorifies McCarthyism to Defend Bachmann Anti-Muslim Witch Hunt
I've got to wonder why CNN thinks interviewing the washed up, flame throwing, race baiting, ex-Speaker of the House is worth putting on the air with little or no rebuttal. But sadly, here was Newt Gingrich defending his buddy Michele Bachmann and her McCarthyism and host Wolf Blitzer doing very little to counter it. You could tell Blitzer was plenty irritated with Gingrich for attacking someone he's friends with, but that didn't stop him from allowing Gingrich from doing his best to justify the witch hunt and with treating Gingrich with a whole lot more deference than he deserved, to put it mildly.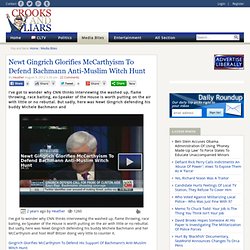 Reports are emerging today that GOP presidential candidate Newt Gingrich was attacked Saturday by a penguin in St. Louis. According to the St. Louis Post Dispatch , Gingrich was in town last week to address the National Rifle Association and took a private tour of the St.
Penguin attacks Gingrich at St. Louis Zoo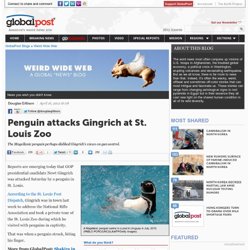 Newt Gingrich: Fox News 'Has Been For Romney All The Way Through,' CNN 'Less Biased'
Newt Gingrich tore into Fox News on Wednesday during a meeting with Tea Party leaders in Delaware, saying that his former network home has been deeply biased against him. "I think Fox has been for Romney all the way through," Gingrich said, according to Real Clear Politics. "In our experience, Callista and I both believe CNN is less biased than Fox this year.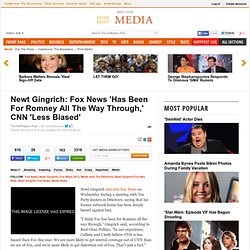 RALEIGH, NC—Following Rick Santorum's announcement Tuesday that he would end his bid for the Republican presidential nomination, candidate Newt Gingrich called upon frontrunner Mitt Romney to drop out of the race so the former House speaker could concentrate on the general election. "While I respect my challenger's right to fight through to the bitter end, the time has now come to unite behind one man so we can take back the White House in November," said Gingrich, addressing a crowd of 35 supporters at the Raleigh County Public Library. "My opponent should be congratulated on running a fine campaign.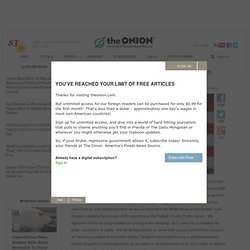 Gingrich Urges Romney To Drop Out So He Can Focus On General Election
Gingrich: GOP Not an Etch A Sketch Party
Republican presidential candidate Newt Gingrich on Sunday continued to blast rival Mitt Romney over his campaign's assertion that their candidate could change positions "like an Etch A Sketch" during the general election. "We're not an Etch a Sketch party," Gingrich told Fox News host Brit Hume. "It was an unfortunate comment by Romney's communication director.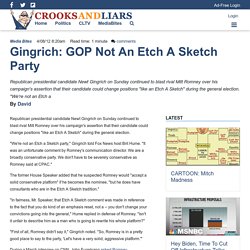 A man who spent part of his childhood working as a janitor told Newt Gingrich on Wednesday that he was offended by the Republican presidential candidate's plan to put kids to work. During an event at Georgetown University, Hector Cendejas called out the former House Speaker for his initiative to replace unionized janitors with children workers. "Back in high school, I was a janitor in my own high school, which was a private school," Cendejas explained. "For me, it was embarrassing to be a janitor at my own high school because I was with the rich kids.
Former Child Janitor to Gingrich: Your Jobs Plan 'Offended' Me
Hey Newt, don't wanna hurt your feelings or anything, but see that fat lady in the corner? She's singing, buddy. Boy, is she singing. Sheldon Adelson, the renown hotel and casino billionaire who has kept Newt Gingrich's campaign alive all these months with donations totaling $15 million dollars, told an informal small group earlier in the week that the former Speaker's campaign is "at the end of the line." This has been a pretty terrible, horrible, no good, very bad week for the Newtster.
Newt's Sugar Daddy Pulling the Plug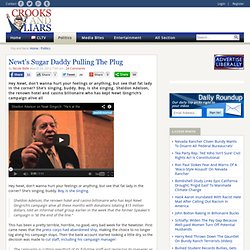 Newt Gingrich Cutting Staff to Shift Focus to Convention
Jose Luis Magana/Associated Press Newt Gingrich visited Maryland on Tuesday, but will turn his attention to conveying "big ideas" instead of campaigning. The change in strategy was described Tuesday night by Joe DeSantis, the campaign's communications director, who said one-third of Mr. Gingrich's staff would soon leave, including the campaign manager, Michael Krull.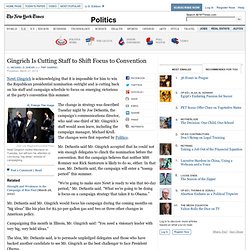 Republican presidential candidate, former Speaker of the House Newt Gingrich speaks during the Gulf Coast Energy Summit at the Mississippi Coast Coliseum on March 12, 2012 in Biloxi, Mississippi. (Photo by Sean Gardner/Getty Images) Republican hopeful Newt Gingrich slammed Barack Obama on Friday, saying the president's remarks about the fatal February shooting of Trayvon Martin were "disgraceful."
Newt Gingrich: Obama's Trayvon Martin Statement 'Disgraceful'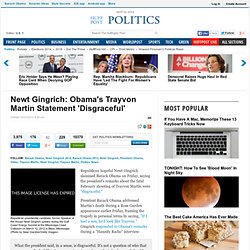 The Gingrich camp is adressing concerns that Rule 40(b) could keep Newt from gaining the nomination Sean Gardner/Getty Images. Now let us talk of Republican National Committee rule No. 40(b). Must we? I'm afraid we must, my friend, they're printing stories in the press .
The Republican National Committee rule No. 40(b) won't be the reason Newt Gingrich can't be the party's nominee
Former House Speaker Newt Gingrich. Win McNamee / Getty Images Saying that Mitt Romney may not be able to "grind his way toward the nomination" despite a huge fundraising advantage, former House Speaker Newt Gingrich told NPR today that he sees no reason to exit the Republican presidential race and that there's a chance of a new contender emerging at the party's convention in August. "I'm not so sure you wouldn't get a series of brand new players" stepping forward during a brokered convention, he told Morning Edition co-host Steve Inskeep. Or, he said, he might emerge as the convention's choice.
Gingrich: Some 'Brand New Players' Might Emerge At GOP Convention : The Two-Way
Republican presidential candidate Newt Gingrich on Tuesday called for President Barack Obama to apologize after actor Robert DeNiro jokingly asked if America was ready for a white first lady. "Callista Gingrich. Karen Santorum. Ann Romney. Now do you really think our country is ready for a white First Lady?" DeNiro wondered at an Obama fundraiser in New York on Monday.
Gingrich to DeNiro: 'The Country Is Ready' for a White First Lady
Republican presidential candidate Newt Gingrich says his ideas are so big that the news media can't cover them and his opponents can't comprehend them. Speaking at the Northwest Suburban Republican Lincoln Day Dinner in Springfield, Illinois on Wednesday, the former House Speaker explained that he was staying in the race because "democracy is simply a shadow event floating on top of the power of the interest groups." "The level of effort it would take to change the system is beyond the imagination of most elected officials and beyond the imagination of most candidates," Gingrich remarked. "The thing I find most disheartening about this campaign is the difficulty of talking about positive ideas on a large scale. Because the news media can't cover it and, candidly, my opponents can't comprehend it."
Gingrich: Opponents Can't Comprehend My Big Ideas
Endless Suffrage 2012 - The Daily Show with Jon Stewart - 03/14
Gingrich Desperately Trying To Court People-Who-Vote Vote
WASHINGTON—Hoping to gain key wins in today's primaries, Republican presidential candidate Newt Gingrich has adopted a new strategy that targets the crucial people-who-vote demographic, sources confirmed. "Gingrich has repeatedly failed to attract the Americans-who-participate-in-the-electoral-process vote," said Washington-based pollster S. David Pollack, explaining how the former House speaker's lack of support among this segment of the population has hurt his chances of winning the Republican nomination.
Gingrich Vows to Stay in GOP Primary Race and Calls for Brokered Convention
Gingrich: Romney Weakest GOP Frontrunner Since 1920
Ali G- Newt Gingrich
Mr. 'Language of Living in the Ghetto' Gingrich Brags About His Hispanic Co-Chairs
Newt Gingrich Blames Price of Gas on 'Obama's Policies'
Poll: Gingrich Best Candidate To Preside Over America's Hedonistic Decline | The Onion - America's Finest News Source | Onion News Network
Handlers Constantly Reminding Gingrich To Stay On Uninspiring, Belittling Message
Newt Gingrich Calls Obama An 'Extremist' Who Supported 'Infanticide' At GOP Debate
Did 'Elite Media' Ignore 'Infanticide'?
Gingrich: 'You Can't Put a Gun Rack on a Volt'