Design
Coney Island Boardwalk Transforms Into Building Material
When the New York City parks department started using concrete and synthetic lumber three years ago to replace sections of the Coney Island Boardwalk — that symbol of summer, receptacle of dropped ice cream cones and witness to roller coaster romance — the move prompted outrage from preservationists. Unintentionally, the city had begun an engaging tale of reinvention.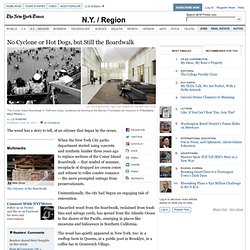 Stainless Steel Tile at Design For Less
TOZIER - Luxury Modern Architecture, Luxury Organic Architecture, Exotic Architecture, Carbon Fiber Furniture, Ultramodern Architecture, Supermodern Architecture, Freeform Architecture, Extreme Home Architect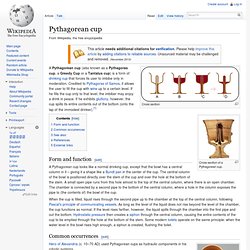 Cross section Cross section of a Pythagorean cup.
Pythagorean cup
Modular Dish Drainer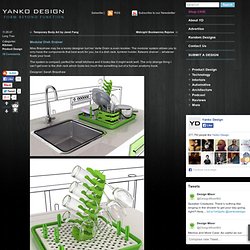 Modular Dish Drainer & Yanko Design
10 Most Inappropriate Office Items
Ok so these mice aren't politically correct but they're fun, and they do really work, so if you're over 18 and you like boobies then this is the mouse for you.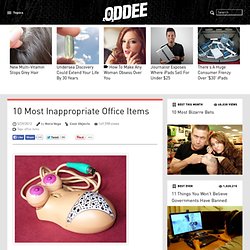 Automata News, Videos, Reviews and Gossip - io9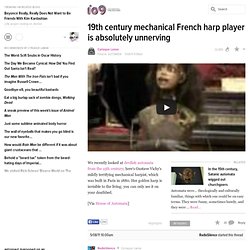 A lyre, maybe, not what most people today are going to think of as a harp; the hands are held wrong to be playing a harp. Well, maybe a tiny one, strummed, but the music is picking out notes, so that doesn't work either.
Automata News, Videos, Reviews and Gossip - io9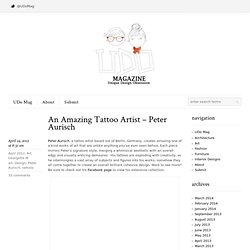 Peter Aurisch, a tattoo artist based out of Berlin, Germany, creates amazing one of a kind works of art that are unlike anything you've ever seen before. Each piece mirrors Peter's signature style, merging a whimsical aesthetic with an overall edgy and visually enticing demeanor. His tattoos are exploding with creativity, as he intermingles a vast array of subjects and figures into his works, somehow they all come together to create an overall brilliant cohesive design.
An Amazing Tattoo Artist - Peter Aursich | UDO MAG
35 Amazing Uses For Old Pallets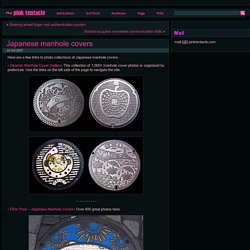 Japanese manhole covers ~ Pink Tentacle
24 Oct 2007 Here are a few links to photo collections of Japanese manhole covers. - Okachin Manhole Cover Gallery: This collection of 1,000+ manhole cover photos is organized by prefecture.
Neonflames
WHERE GOOD IDEAS COME FROM by Steven Johnson
Origami Peper Plane
Design Seeds&: For All Who Love Color | Search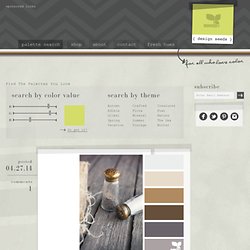 #faf2b9
Ians Shoelace Site - Shoe Lacing Methods
These are very beautiful drawings!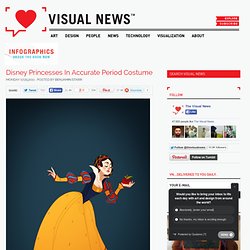 Disney Princesses In Accurate Period Costume
- StumbleUpon
- StumbleUpon
10 Totally Cool Placemats
Moss Placemats Add some woodland whimsy to your table decor with Moss Mossy's homemade place mats!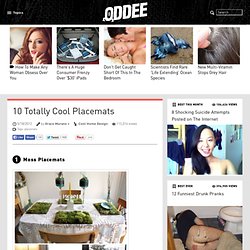 Manga farming ~ Pink Tentacle
Bento Laptop Tablet Hybrid by René Woo-Ram Lee & Yanko Design
Bento Box Kinda Like Voltron Bento is quite an exceptional and forward thinking concept by René Woo-Ram Lee. It's quite a plausible scenario that most of use/own a tablet, a PC, external hard drives and a smartphone.
From 1999 to 2004, I worked for a private urban planning firm designing New Urbanist neighborhoods throughout the US. In 2007, as foreclosures began to occur I questioned my work. Did I add to this in some way? I was aware early on that these foreclosures were just the beginning of something bigger yet I felt alone when I mentioned it. Few agreed with me or seemed concerned.It was important to me to present the whole story in a way that would captivate people's attention and make a memorable statement.
21st Century Folk Art: Foreclosure Quilts
12 Creative Napkin Holders
A humorously designed napkin holder, with a brave matador on one side and a raging bull on the other, with napkins (preferably red!)
McDonald's Food Mummy Art Show by Ben Campbell
The project is to fund and enhance an art show featuring a wide variety of work created with and inspired by McDonald's Food. Conceptually, the reason behind the show is to comically highlight the parallels between Ancient Egypt, McDonald's Food, and Modern Society.
10 Amazing Book-Art Pieces
BBC - Bradford and West Yorkshire - Features - Crate crazy in Castleford!
Graffiti Analysis
- StumbleUpon
See . Saw on the Behance Network
- StumbleUpon
The eyeballing game
This is What Happens When You Give Thousands of Stickers to Thousands of Kids | Colossal - StumbleUpon
Carved Book Landscapes by Guy Laramee | Colossal - StumbleUpon
BIGADDICT - StumbleUpon
Banksy
Inside the ultimate subway graffiti project
106 of the most beloved Street Art Photos - Year 2011 | STREET ART UTOPIA
- StumbleUpon
David Mach Creates "The Devil" Out of Matchsticks. Sets It On Fire | ArsCentral
Carbon Sink: What Goes Around Comes Around. A Controversial Installation at the University of Wyoming.
Mountains of Books Become Mountains
Wabi-sabi
Shooting Challenge Steel Wool 2
page corner bookmarks | I Could Make That
33 Ways To Stay Creative
G A L L E R Y
Quilling - Turning Paper Strips into Intricate Artworks
ct_1440.jpg (1440×900)
barbie recreations of art classics
Everything but the Paper Cut: Eye-popping Ways Artists Use Paper
The World's Most Complex Architectural Columns
Designing from behind the Iron Curtain - Imprint
MoMA to Showcase Cindy Sherman's New and Old Characters
Inside Germany's famed art school
Koalas to the Max dot Com
Color Palette Generator
Beautiful REK bookcase grows with your library
Cube - Cubify