China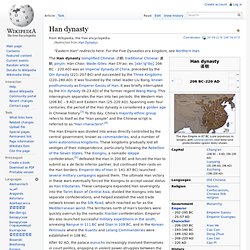 Han Dynasty
The Han Dynasty (simplified Chinese: 汉朝; traditional Chinese: 漢朝; pinyin: Hàn Cháo; Wade–Giles: Han Ch'ao; IPA: [xân tʂʰɑ̌ʊ̯]) (206 BC – 220 AD) was an imperial dynasty of China, preceded by the Qin Dynasty (221–207 BC) and succeeded by the Three Kingdoms (220–280 AD). It was founded by the rebel leader Liu Bang, known posthumously as Emperor Gaozu of Han. It was briefly interrupted by the Xin Dynasty (9–23 AD) of the former regent Wang Mang.
Advertisement Please support our site by enabling javascript to view ads. BEIJING, China — A creaky old Beijing supermarket recently underwent a bold renovation: The entire first floor was gutted, a traditional teashop was closed and all of it was replaced with a cavernous wine emporium and a huge tasting room.
China: Let them drink wine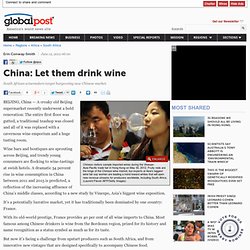 Human Rights Record of United States in 2011|Document
Shenlong 'Divine Dragon' Takes Flight: Is China developing its first spaceplane? | China SignPost™ 洞察中国
- StumbleUpon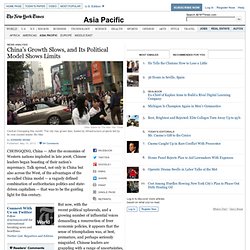 Gilles Sabrie for The New York Times Central Chongqing this month. The city has grown fast, fueled by infrastructure projects led by its now-ousted leader, Bo Xilai.
China's Unique Economic Model Gets New Scrutiny
We're Number ... 2? Are Americans in Denial About the Country's Decline?
Politicians in the United States must ritualistically assert that the United States is and always will be the world's leading economic, military and political power. This chant may help win elections in a country where respectable people deny global warming and evolution, but it has nothing to do with the real world. Those familiar with the data know that China is rapidly gaining on the United States as the world's leading economic power.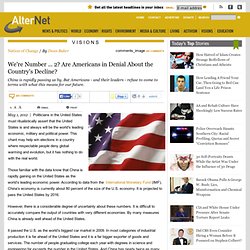 China's Economy
Behind the political crisis that saw the recent fall of powerful Communist Party leader Bo Xiali is an internal battle over how to handle China's slowing economy and growing income disparity, while shifting from a cheap labor export driven model to one built around internal consumption. Since China is the second largest economy on the planet—and likely to become the first in the next 20 to 30 years—getting it wrong could have serious consequences, from Beijing to Brasilia, and from Washington to Mumbai. China's current major economic challenges include a dangerous housing bubble, indebted local governments, and a widening wealth gap, problems replicated in most of the major economies in the world.
China's military rise: The dragon's new teeth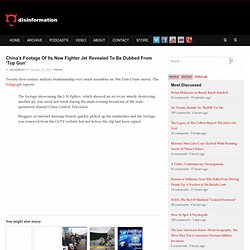 China's Footage Of Its New Fighter Jet Revealed To Be Dubbed From 'Top Gun'
Twenty-first-century military brinkmanship very much resembles an '80s Tom Cruise movie. The Telegraph reports: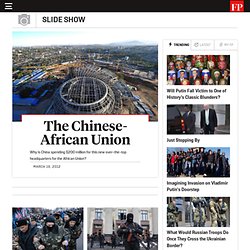 When the new African Union (AU) headquarters was unveiled in Addis Ababa, Ethiopia, earlier this year, the $200 million structure -- now the capital city's tallest building -- caused a splash.
The Chinese-African Union - An FP Slide Show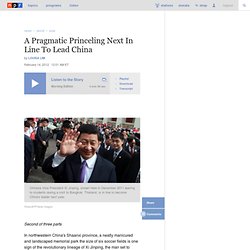 hide captionChinese Vice President Xi Jinping, shown here in December 2011 waving to students during a visit to Bangkok, Thailand, is in line to become China's leader next year. Pairoj/AFP/Getty Images Chinese Vice President Xi Jinping, shown here in December 2011 waving to students during a visit to Bangkok, Thailand, is in line to become China's leader next year. Second of three parts In northwestern China's Shaanxi province, a neatly manicured and landscaped memorial park the size of six soccer fields is one sign of the revolutionary lineage of Xi Jinping, the man set to become China's next leader. Known as a Communist Party princeling, Xi is the 58-year-old son of Xi Zhongxun, a deputy prime minister and revolutionary hero who died in 2002.
A Pragmatic Princeling Next In Line To Lead China
China Law Blog : China Law for Business - StumbleUpon
Thank to Disinfo for highlighting my blocked words project, Blocked on Weibo, in your post "The Most Censored Words On The Chinese Internet."
How China Actually Gets the Internet to Censor Itself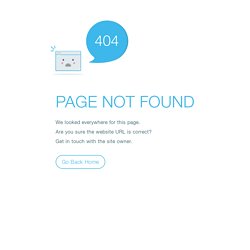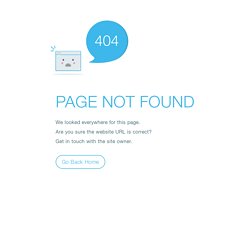 UPDATE: How China Actually Gets the Internet to Censor Itself Weibo is a Twitter-esque Chinese social media platform which boasts over 300 million regular users after just two years of existence.
The Most Censored Words On The Chinese Internet
Big Romney is watching you
The New York Times reported today that Bain Capital, the private equity firm started by GOP presidential candidate Mitt Romney, owns a Chinese company, Uniview, that supplies highly advanced surveillance equipment to the Chinese government. China's authoritarian rulers are using the equipment to create an "omniscient monitoring system" throughout the country, according to a Human Rights Watch researcher quoted by the Times. "When it comes to surveillance, China is pretty upfront about its totalitarian ambitions," said Nicholas Bequelin.
The conventional picture of US policy in the Middle East is of a hellbound train rushing toward war with Iran, pulling burning coaches filled with European passengers howling praise of Western values out the windows at horrified bystanders. Actually, I think it's more like a monster truck exhibition. Lots of sound, fury, testosterone, and bravado, but just spinning wheels, spewing mud, roaring in circles, and going nowhere. What is very interesting is that China, usually an apostle of non-interference, believes it has something to contribute to the Syrian situation, probably for two reasons: 1) it needs to road-test some new approaches to managing and accommodating dissent in anticipation of the day when Arab-Spring type upheavals become an important factor in China and 2) the current situation is so screwed up the Chinese feel they can make a genuine contribution.
China Steps Up in Syria