People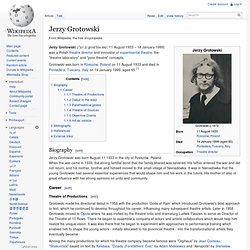 Jerzy Grotowski (/'jɛr.zi groʊ'tɑv.ski/; 11 August 1933 – 14 January 1999) was a Polish theatre director and innovator of experimental theatre, the "theatre laboratory" and "poor theatre" concepts. Grotowski was born in Rzeszów, Poland on 11 August 1933 and died in Pontedera, Tuscany, Italy on 14 January 1999, aged 65.[1] Biography[edit]
Jerzy Grotowski
Peter Stephen Paul Brook CH, CBE (born 21 March 1925) is an English theatre and film director and innovator, who has been based in France since the early 1970s. Biography[edit]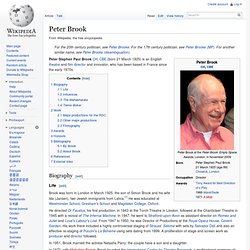 Peter Brook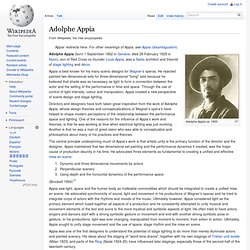 Adolphe Appia
Adolphe Appia ca. 1900 Adolphe Appia (born 1 September 1862 in Geneva; died 29 February 1928 in Nyon), son of Red Cross co-founder Louis Appia, was a Swiss architect and theorist of stage lighting and décor. Appia is best known for his many scenic designs for Wagner's operas.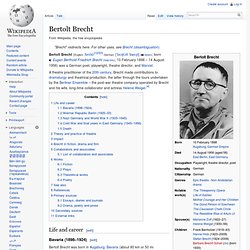 Bertolt Brecht (German: [ˈbɛɐ̯tɔlt ˈbʁɛçt] (
Bertolt Brecht
Edward Henry Gordon Craig (16 January 1872 – 29 July 1966), sometimes known as Gordon Craig, was an English modernist theatre practitioner; he worked as an actor, director and scenic designer, as well as developing an influential body of theoretical writings. Craig was the son of revered actress Dame Ellen Terry. The Gordon Craig theatre, built in Stevenage (the town of his birth), was named in his honour in 1975.
Edward Gordon Craig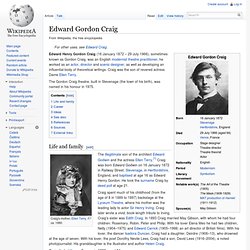 Antoine Marie Joseph Artaud, better known as Antonin Artaud (French: [aʁto]; 4 September 1896 – 4 March 1948), was a French playwright, poet, actor and theatre director.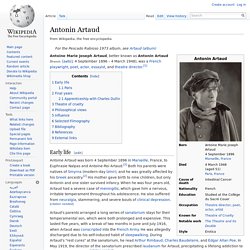 Antonin Artaud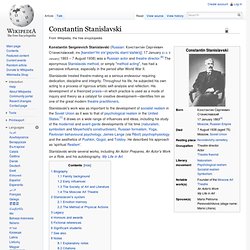 Constantin Stanislavski
Konstantin Sergeievich Alekseiev (Benedetti, 1988, 3) (Russian: Константи́н Серге́евич Станисла́вский, IPA: [kənstɐnʲˈtʲin sʲɪrˈgʲejɪvʲɪtɕ stənʲɪˈslafskʲɪj]; 17 January [O.S. 5 January] 1863 – 7 August 1938) was a Russian actor and theatre director.