People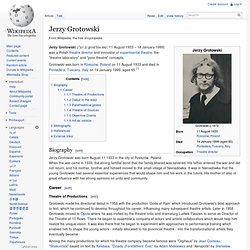 Jerzy Grotowski (/'jɛr.zi groʊ'tɑv.ski/; 11 August 1933 – 14 January 1999) was a Polish theatre director and innovator of experimental theatre, the "theatre laboratory" and "poor theatre" concepts. Grotowski was born in Rzeszów, Poland on 11 August 1933 and died in Pontedera, Tuscany, Italy on 14 January 1999, aged 65.[1] Biography[edit]
Jerzy Grotowski
Peter Stephen Paul Brook CH, CBE (born 21 March 1925) is an English theatre and film director and innovator, who has been based in France since the early 1970s. Biography[edit] Life[edit] Brook was born in London in March 1925, the son of Simon Brook and his wife Ida (Jansen), two Jewish immigrants from Latvia.[1] He was educated at Westminster School, Gresham's School and Magdalen College, Oxford. In 1951, Brook married the actress Natasha Parry; the couple have a son and a daughter. In 1970, with Micheline Rozan, Brook founded the International Centre for Theatre Research, a multinational company of actors, dancers, musicians and others which travelled widely in the Middle East and Africa in the early 1970s.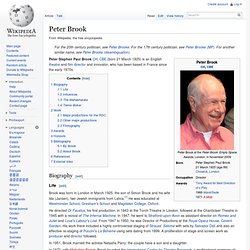 Peter Brook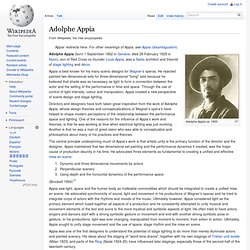 Adolphe Appia
Adolphe Appia ca. 1900 Adolphe Appia (born 1 September 1862 in Geneva; died 29 February 1928 in Nyon), son of Red Cross co-founder Louis Appia, was a Swiss architect and theorist of stage lighting and décor. Appia is best known for his many scenic designs for Wagner's operas.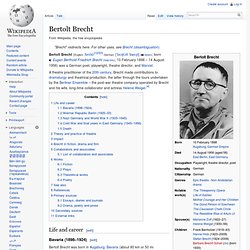 Bertolt Brecht (English: /brɛkt/[1][2][3] German: [ˈbɛɐ̯tɔlt ˈbʁɛçt] ( ); born Eugen Berthold Friedrich Brecht ; 10 February 1898 – 14 August 1956) was a German poet, playwright, theatre director, and Marxist. A theatre practitioner of the 20th century, Brecht made contributions to dramaturgy and theatrical production, the latter through the tours undertaken by the Berliner Ensemble – the post-war theatre company operated by Brecht and his wife, long-time collaborator and actress Helene Weigel.[4] Life and career[edit]
Bertolt Brecht
Edward Henry Gordon Craig (16 January 1872 – 29 July 1966), sometimes known as Gordon Craig, was an English modernist theatre practitioner; he worked as an actor, director and scenic designer, as well as developing an influential body of theoretical writings. Craig was the son of revered actress Dame Ellen Terry. The Gordon Craig theatre, built in Stevenage (the town of his birth), was named in his honour in 1975.
Edward Gordon Craig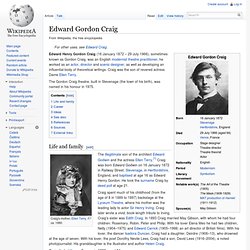 Antoine Marie Joseph Artaud, better known as Antonin Artaud (French: [aʁto]; 4 September 1896 – 4 March 1948), was a French playwright, poet, actor and theatre director. Antonin is a diminutive form of Antoine "little Anthony", and was among a list of names which Artaud used throughout his writing career. Background[edit] Antoine Artaud was born September 4, 1896 in Marseille, France, to Euphrasie Nalpas and Antoine-Roi Artaud.[1] Both his parents were natives of Smyrna (modern-day İzmir), and he was greatly affected by his Greek ancestry.[1] His mother gave birth to nine children, but only Antonin and one sister survived infancy. When he was four years old, Artaud had a severe case of meningitis, which gave him a nervous, irritable temperament throughout his adolescence.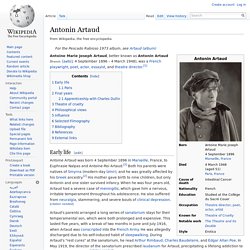 Antonin Artaud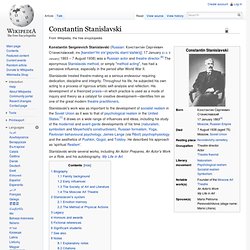 Constantin Stanislavski
Konstantin Sergeievich Stanislavski (Russian: Константи́н Серге́евич Станисла́вский, IPA: [kənstɐnʲˈtʲin sʲɪrˈgʲejɪvʲɪtɕ stənʲɪˈslafskʲɪj]; 17 January [O.S. 5 January] 1863 – 7 August 1938) was a Russian actor and theatre director.[b] The eponymous Stanislavski method, or simply "method acting", has had a pervasive influence, especially in the period after World War II. Stanislavski wrote several works, including An Actor Prepares, An Actor's Work on a Role, and his autobiography, My Life in Art. Biography Family background