Recipes
30 Foods To DIY Instead Of Buy. Iowa Digital Library. A Collection of Recipe's w/ Pics. Retail_beef_cuts11.jpg (875×1125) Recipe Search. Try it now.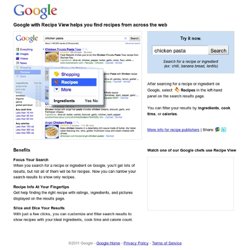 Search for a recipe or ingredient (ex: chili, banana bread, lentils) After searcing for a recipe or ingredient on Google, select Recipes in the left-hand panel on the search results page. You can filter your results by ingredients , cook time , or calories . More info for recipe publishers | Share:
Cooking Tips. Entrees. Desserts.
---