Activities
5 Easy Steps to Turn Your Beer Bottles into Glass Cups. TheUglyDance.com - Turn yourself into an ugly dancer. 50 Things Everyone Should Know. By Mark and Angel Self-reliance is a vital key to living a healthy, productive life.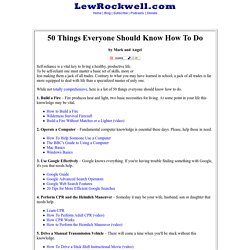 To be self-reliant one must master a basic set of skills, more or less making them a jack of all trades. Contrary to what you may have learned in school, a jack of all trades is far more equipped to deal with life than a specialized master of only one. While not totally comprehensive , here is a list of 50 things everyone should know how to do. Maps of War ::: Visual History of War, Religion, and Government. Draw a Stickman. Do Nothing for 2 Minutes - StumbleUpon.
America's 100 Best Adventures, State-by-State List. Geocaching - The Official Global GPS Cache Hunt Site.
---