Housing
Natural Materials Bathroom. The Dome Calculator. Eccentric Aesthetics: DIY Eco-Friendly Earthbag Homes. Heat Your Home For Free With These Solar Heaters | The Good Human. My landlord just installed 2 of these solar heaters – 10 days before I move out, which stinks.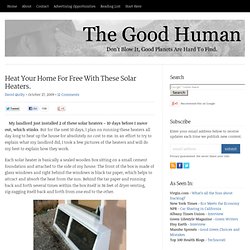 But for the next 10 days, I plan on running these heaters all day long to heat up the house for absolutely no cost to me. In an effort to try to explain what my landlord did, I took a few pictures of the heaters and will do my best to explain how they work. Each solar heater is basically a sealed wooden box sitting on a small cement foundation and attached to the side of my house. The front of the box is made of glass windows and right behind the windows is black tar paper, which helps to attract and absorb the heat from the sun. 8 eye-catching shipping container homes. The Tofte Project. Did You Know You Can Get Free Solar on Your Home in Eight US States? | Green Living Ideas. There are now at least eight states in the US where you can get a free solar system to supply your home's electricity at a lower rate than your utility does.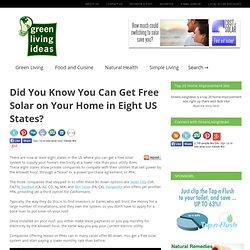 These eight states allow private companies to compete with their utilities that sell power by the kilowatt hour, through a "lease" or a power purchase agreement, or PPA. The three companies that stepped in to offer these $0 down options are Solar City (OR, CA,TX), SunRun (CA, AZ, CO, NJ, MA) and Gro Solar (PA, CA). Sungevity also offers yet another PPA, providing yet a third option for Californians. Typically, the way they do this is to find investors or banks who will front the money for a large number of installations, and they own the system, so you don't have to apply for a bank loan to put solar on your roof.
Once installed on your roof, you either make lease payments or just pay monthly for electricity by the kilowatt hour, the same way you pay your current electric utility. How to Buy Used Shipping Containers and Save Money on Storage Containers. By Dylan Mazeika Shipping containers come in handy when you need to store overstock product, materials, or equipment for safekeeping or future transport.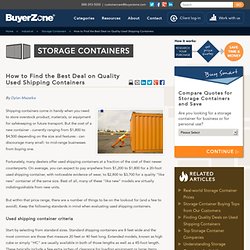 But the cost of a new container - currently ranging from $1,800 to $4,500 depending on the size and features - can discourage many small- to mid-range businesses from buying one. Fortunately, many dealers offer used shipping containers at a fraction of the cost of their newer counterparts. Index. ECO HAB™ Eco Homes. Ecological habitation. Dome shaped prefabricated houses.
---