Innovation sociale
Great Leaders are First Great Human Beings… | Sustainability Learning Centre Blog. I admit it.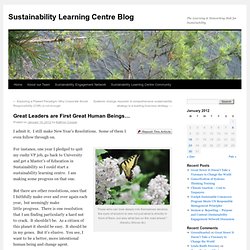 I still make New Year's Resolutions. Some of them I even follow through on. Innovation Sociale : Boîte à outils. Grille de caractérisation ‹ Innovation Sociale. The processes of social innovation | Public Sector Innovation. This week's innovation conversation is more closely aligned to the original notion of RSA-style interdisciplinary conversations.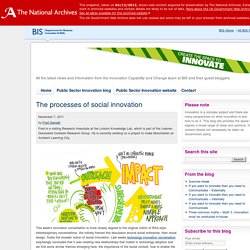 We initially framed this discussion around social enterprise, then social design, finally the broader notion of social innovation. Last weeks technology innovation conversation surprisingly concluded that it was creating new relationships that matter in technology adoption and we find some similar themes emerging here; the importance of the social context, how to enable the social processes of innovation, whilst not forgetting practical business examples already being implemented. Bernatchez-FR. I-propeller - Home. An Open Source Approach to Medical Research (October 3, 2011) | Opinion Blog. An interview with Stephen Friend about using using open source to encourage collaboration and share health information.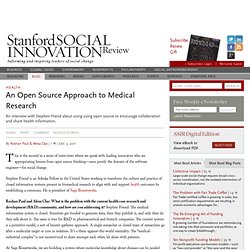 This is the second in a series of interviews where we speak with leading innovators who are appropriating lessons from open source thinking—once purely the domain of the software engineer—for social change. Stephen Friend is an Ashoka Fellow in the United States working to transform the culture and practice of closed information systems present in biomedical research to align with and support health outcomes by establishing a commons. He is president of Sage Bionetworks. Roshan Paul and Alexa Clay: What is the problem with the current health care research and development (R&D) community, and how are you addressing it? CÉRSÉ: favoriser l'écocitoyenneté des entreprises. Social innovation: Let's hear those ideas. Flanders DC. Accueil - Pour la Solidarite. Dynamo, ressource en mobilisation des collectivités. Le Jeu Symbolik - Act One. Conçu par Brice Challamel et illustré par Arnaud Baudin, le jeu Symbolik© est le dernier né des outils d'animation d'Act One.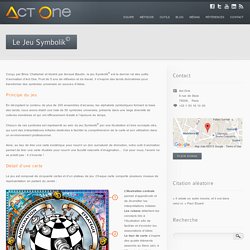 Fruit de 5 ans de réflexion et de travail, il s'inspire des tarots divinatoires pour transformer des symboles universels en sources d'idées. En décryptant le contenu de plus de 200 ensembles d'arcanes, les alphabets symboliques formant la base des tarots, nous avons établi une liste de 50 symboles universels, présents dans une large diversité de cultures mondiales et qui ont efficacement résisté à l'épreuve du temps. Chacun de ces symboles est représenté au sein du jeu Symbolik© par une illustration et trois concepts clés, qui sont des interprétations initiales destinées à faciliter la compréhension de la carte et son utilisation dans un environnement professionnel.
---