TRAVAUX MANUELS
The Ukrainian FolkArt. Home * Photonews * Проблемы НТР * Мечты о машинном переводе * Відтінки культури * New!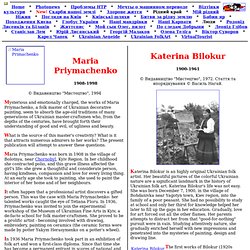 * Здорове життя * Рідний край * Мій рідний Ніжин * Погляди на Київ * Київські шляхи * Битви за рідну землю * Бабин яр * Походження Києва * Глобус України * Наші мандрівки * Наші Карпати * Люди * Родовід Лисенків та Біланів * Життєпис * Мой сын Олег, пилот * По следам Добрыни * Леонід Глібов * Станiслав Лем * Юрiй Лисянський * Георгiй Малаков * Олена Телiга * Вiктор Суворов * Карел Чапек * Ukrainian Aeneide * Ukrainian FolkArt * VirtualTourist Text of Alla FILATOVA, photographs by Yuri BUSLENKO © Ukraine illustrated monthly #2, 1991 The cosy apartment of Maria Zarembska, an embroideress, is full of books.
You can see them everywhere — on her desk, on the windtowsill and even in the kitchen. Last-minute slouch | Madelinetosh. Knitting for last minute gifts is part of the holiday season and often unexpectedly fun. this year a slouchy hat using two luxurious skeins of eyre, for a close friend seemed just right. last-minute slouch ::: yarn :: madelinetosh eyre (225 yds (206 meters): "milk", 2 skeins, madelinetosh tosh sock (395 yards / 361 meters) : "robin's egg", 1 skein. note : both yarns are held doubled throughout. needles :: one US 9 (5.5mm) 32" (80 cm) circular needle. change needle size if necessary to obtain gauge. notions :: 1 stitch marker for marking beginning of round and a darning needle for securing remaining sts. gauge :: 12 sts = 4 inches (10 cm) in stockinette stitch.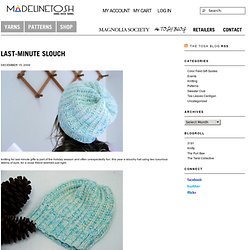 Tutti Frutti - Éditeur indépendant de livre loisir créatif. Crafts From The Past: Rice Bag Tote. I hope you guys don't mind but I'm going to re-post one of my older crafts from when I first started blogging.
I'm currently fighting a horrible flu and just don't have the energy to be crafting/writing. I'm keeping my fingers crossed I'll be back to normal my Monday. I made this handbag out of two rice bags. We buy the large bags since we eat a lot of rice here. My husband would beg to differ. Cours de tricot. Les tutos, les tutos, les tutos... Allez, il nous reste quelques jours avant la date fatidique et ces petites mitaines seront parfaites sous le sapin...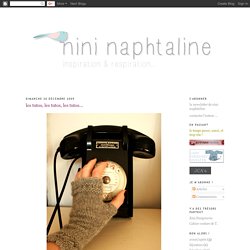 Deux petites soirées sont nécessaires à leur réalisation, juste parfait pour le temps qu'il nous reste... Après avoir contacté Janelle et Cathy Friedland de Dancing Ewe Yarns, le site sur lequel le modèle est disponible, j'ai obtenu l'autorisation de vous offrir la traduction de ce joli modèle facile, mais qui fait son petit effet... Susies ReadingMitts. A Pattern! | At Yarn's End. I've gotten a few requests for the Wager's Hat I made for my friend Pam for Christmas and so I'm going to post it here - the best I can remember.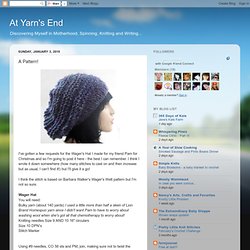 I think I wrote it down somewhere (how many stitches to cast on and then increase but as usual, I can't find it!) But I'll give it a go! I think the stitch is based on Barbara Walker's Wager's Welt pattern but I'm not so sure.
---