Dresses
Move Out
Buying a swoon wedding gown or dress at swoon www.swoonweddinggowns.co.uk. Buying a dress from SWOON couldn't be easier!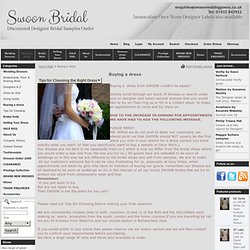 Simply scroll through our stock of dresses,or search under size or designer and select several dresses that you would like to try on.Then ring us,or fill in a contact sheet to make an appointment to come and try them on. PLEASE READ!! NB: Whilst we do not wish to deter our customers, we should point out that SWOON should NOT usually be the first place you visit in your search for a dress (unless you know exactly what you want -or that you specifically want to buy a sample or Once Worn.)Our dresses are not here to be repeatedly tried on ( which is how we differ from the bridal shops where you would order a new one from the one you try on.) Location salle la roche sur yon vendee salle mariage reception seminaire accueil groupe 85.
Ntact detail swoon www.swoonweddinggowns.co.uk new and once worn designer wedding dress and gown. To contact us please fill in your details and comments below and we will get back to you as soon as we can.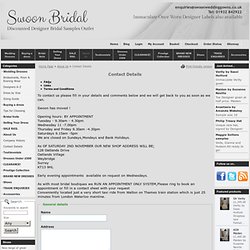 Swoon has moved ! Opening hours: BY APPOINTMENTTuesday - 9.30am - 4.30pmWednesday 11 -7.00pmThursday and Friday 9.30am -4.30pmSaturdays 9.15am -5pmWe are closed on Sundays,Mondays and Bank Holidays. As OF SATURDAY 2ND NOVEMBER OUR NEW SHOP ADDRESS WILL BE;128 Oatlands DriveOatlands VillageWeybridgeSurreyKT13 9HL.
Second Hand Nearly New Once Worn Pre Loved Pre Worn Designer Wedding Dresses. Tammam :: Home. Where to Buy Organic Fabric Online? Buying Organic Fabrics Online Finding organic fabrics locally is nearly impossible, at least in my area.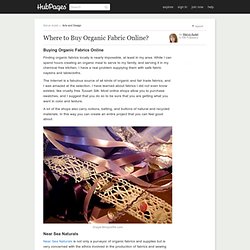 While I can spend hours creating an organic meal to serve to my family, and serving it in my chemical free kitchen, I have a real problem supplying them with safe fabric napkins and tablecloths. VICTORIA CAULFEILD - HOME. Second hand Wedding dresses for sale also Bridesmaid Dresses. U.K. The UK Trading Post. Wedding dresses : Bridal : Clothes & accessories : Oxfam's Online Shop. Oxfam's Online Shop has a beautiful range of second-hand wedding dresses and one-off pieces for the groom, best man and bridesmaids.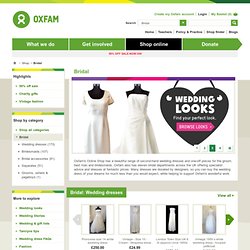 Oxfam also has eleven bridal departments across the UK offering specialist advice and dresses at fantastic prices. Many dresses are donated by designers, so you can buy the wedding dress of your dreams for much less than you would expect, while helping to support Oxfam's wonderful work. Nearly New Second Hand Designer Once Worn and Ex-Sample Wedding Dresses, Bridesmaid Dresses, Flower Girl Dresses and Prom Dresses. UK AWARE Blog » Eco Wedding Dress – Top Tips.
---