Dresses
buying a swoon wedding gown or dress at swoon www.swoonweddinggowns.co.uk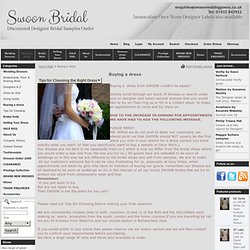 Buying a dress from SWOON couldn't be easier! Simply scroll through our stock of dresses,or search under size or designer and select several dresses that you would like to try on.Then ring us,or fill in a contact sheet to make an appointment to come and try them on. PLEASE READ!!NB: Whilst we do not wish to deter our customers, we should point out that SWOON should NOT usually be the first place you visit in your search for a dress (unless you know exactly what you want -or that you specifically want to buy a sample or Once Worn.)Our dresses are not here to be repeatedly tried on ( which is how we differ from the bridal shops where you would order a new one from the one you try on.)
location salle la roche sur yon vendee salle mariage reception seminaire accueil groupe 85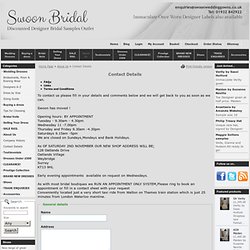 To contact us please fill in your details and comments below and we will get back to you as soon as we can. Swoon has moved ! Opening hours: BY APPOINTMENTTuesday - 9.30am - 4.30pmWednesday 11 -7.00pmThursday and Friday 9.30am -4.30pmSaturdays 9.15am -5pmWe are closed on Sundays,Mondays and Bank Holidays. As OF SATURDAY 2ND NOVEMBER OUR NEW SHOP ADDRESS WILL BE;128 Oatlands DriveOatlands VillageWeybridgeSurreyKT13 9HL
ntact detail swoon www.swoonweddinggowns.co.uk new and once worn designer wedding dress and gown
Second Hand Nearly New Once Worn Pre Loved Pre Worn Designer Wedding Dresses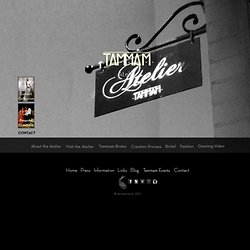 Tammam :: Home
Atelier Tammam is a small traditional couture atelier (fashion studio and showroom) based in the heart of Bloomsbury, central London offering a personal and luxurious experience to our customers. We specialise in hand crafted, hand made, high quality bridal and evening wear. We have a wide selection of gowns available to try as well as offering a bespoke service where we can design and create a gown just for you. At the atelier we can also source your full wardrobe including shoes, jewelery, headpieces or veils and hair and make up for your event, we have a selection of accessories to view during your visit (contact us to book an appointment). We also have a few select stockists across the UK where our couture and ready to wear collections can be tried and purchased. Tammam is a label with design and style at its core we offer gowns that have been made by expert craftspeople treated ethically, using sustainable materials including vegetarian peace silks and vegan alternatives.
Where to Buy Organic Fabric Online?
Buying Organic Fabrics Online Finding organic fabrics locally is nearly impossible, at least in my area. While I can spend hours creating an organic meal to serve to my family, and serving it in my chemical free kitchen, I have a real problem supplying them with safe fabric napkins and tablecloths.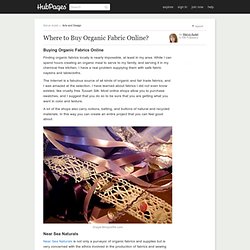 VICTORIA CAULFEILD - HOME
Second hand Wedding dresses for sale also Bridesmaid Dresses. U.K. The UK Trading Post.
Oxfam's Online Shop has a beautiful range of second-hand wedding dresses and one-off pieces for the groom, best man and bridesmaids. Oxfam also has eleven bridal departments across the UK offering specialist advice and dresses at fantastic prices. Many dresses are donated by designers, so you can buy the wedding dress of your dreams for much less than you would expect, while helping to support Oxfam's wonderful work.
Wedding dresses : Bridal : Clothes & accessories : Oxfam's Online Shop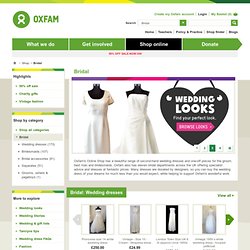 Nearly New Second Hand Designer Once Worn and Ex-Sample Wedding Dresses, Bridesmaid Dresses, Flower Girl Dresses and Prom Dresses
Designer Sample and Once Worn Wedding Dresses at Exceptional Prices - ALL NOW ONLY £100 ALL DRESSES NOW ONLY £100 IN OUR CLOSING DOWN SALE Worn Once With Love is closing down due to ill health - but you can still buy dresses from the website for collection or delivery or come and browse what we have left with friends. If you've already bought a dress that I am storing for you it's still fine. I AM NOT CURRENTLY BUYING DRESSES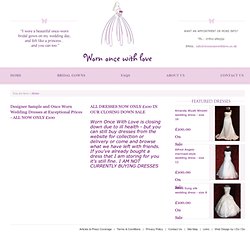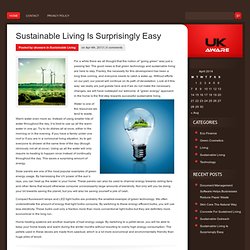 Posted by ukaware in Sustainable Living on Apr 4th, 2013 | 0 comments For a while there we all thought that the notion of "going green" was just a passing fad. The good news is that green technology and sustainable living are here to stay.
UK AWARE Blog » Eco Wedding Dress – Top Tips