Playlists
Progressia.net : rock progressif et musiques inclassables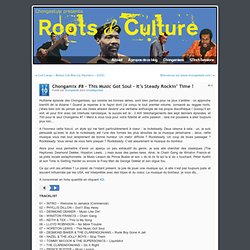 Roots & Culture - Music For Knowledge » Chongamix #8 - This Music Got Soul - It's Steady Rockin' Time !
Huitième épisode des Chongamixes, qui comme les bonnes séries, sont bien parties pour ne plus s'arrêter : on approche bientôt de la dizaine ! Quand je repense à la façon dont j'ai conçu le tout premier volume, consacré au reggae roots, j'étais bien loin de penser que ces mixes allaient devenir une véritable anthologie de ma propre discothèque ! Quoiqu'il en soit, et pour finir avec cet interlude narcissique, le succès est là : 2.400 téléchargements des sept derniers épisodes, et 700 pour le seul Chongamix #7 ! Merci à vous tous pour votre fidélité et votre passion : cela me poussera à aller toujours plus loin… A l'honneur cette fois-ci, un style qui me tient particulièrement à coeur : le rocksteady. Deux raisons à cela : un, je suis persuadé qu'avec le dub le rocksteady est l'une des formes les plus abouties de la musique jamaïcaine ; deux, cette musique vous met tout simplement de bonne humeur.
FREEPLAY MUSIC
Bad Music Radio.
Bad Music Radio sur MySpace Music - Ecoute gratuite de MP3, Photos et clips vidéos
Bio: Welcome to the myspace page of Bad Music Radio , a website dedicated to the enjoyment of highly strange, and frequently awful music. Bad Music Radio is a part of the Museum of Bad Album Covers . About the Bad Music Radio mixes. 2001 Amateur Tribute to 9/11 by Various "Artists" (from the old mp3.com )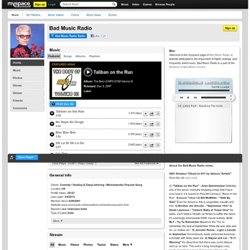 Won Kinny White sur MySpace Music - Ecoute gratuite de MP3, Photos et clips vidéos
» VIEW ALL FEATURED POSTS Featured Items AS220 on 01/08/2014 at 04:45AM Malportado Kids - Mi Concha (EP) On a day that will forever be known in infamy as "Malportaday," the bi-lingual duo of Victoria Ruiz and Joey Defrancesco, otherwise known as Malportado Kids are releasing their first mixtape today. Their stripped down, baille and dancehall infused brand of electronic politico-punk is even more resuscitative than shoving your face in a tub of coffee grinds and starting a riot.